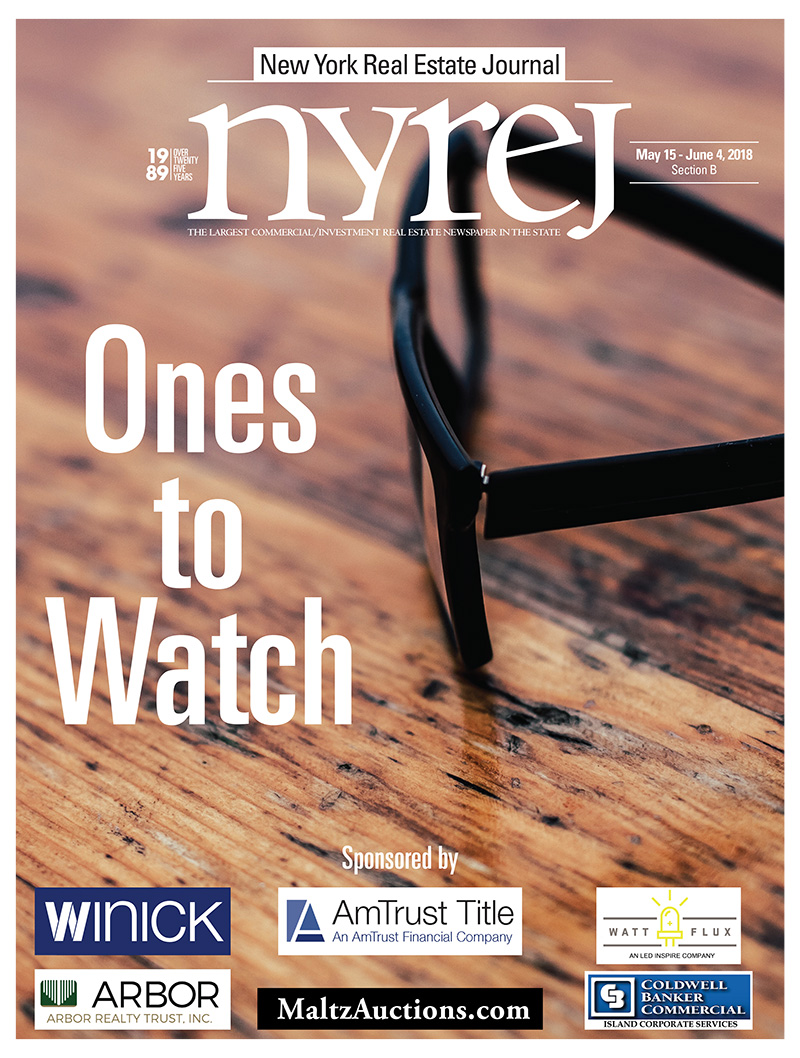 New York, NY The New York Real Estate Journal recently featured a "Ones to Watch" Spotlight, focusing on both up and coming professionals as well as industry veterans across all areas of real estate. Sponsors for this edition include Winick, AmTrust Title, Arbor Realty Trust, Maltz Auctions, Watt and Flux, and Coldwell Banker Commercial Island Corporate Services.
Those featured include: (CLICK on name to view full responses)
Petro Zinkovetsky
Attorney at Zinkovetsky Law Firm
Joseph Isa
Principal/Owner at Isa Realty Group, LLC
Trent Dickey
Vice President – NYC Landlord Representation at Schuckman Realty Inc.
Brendan Thrapp
Senior Director, Commercial at EXR Group Companies, LLC
Danielle Winick
Executive Vice President at Winick Realty Group, LLC
Michael Saidian
Associate Broker at Capital Property Partners
Lev Mavashev
Founder / Managing Partner at Alpha Realty
Michael Freedberg
President at Suffolk Industrial Properties
Matt Dzbanek
Director of Capital Services at Ariel Property Advisors' Capital Services Division
Peter Vanderpool
President at Cignature Realty
Stefani Steinberg
Senior Associate at CBRE - Long Island Office
Perry Lee
Director of Acquisitions at Margules Properties
Alfonso Oliva
Director at LERA Consulting Structural Engineers
Cameron Ringness
Architect, Lead Designer at FXCollaborative
Holley Drakeford
Founder / President at Drakeford Realty Group
Hugh Finnegan
Partner at Romer Debbas LLP
Giovani Arce
Project Manager at Mojo Stumer + Associates
Christopher Jones
Associate Principal at Magnusson Architecture and Planning
Joseph Gibbons
Principal at SWBR
Sean Cronin
Partner at Cronin & Cronin Law Firm, PLLC
Steven Goldberg
Member - Real Estate Transactions at Rosenberg & Estis, P.C.
Mike Costello
Vice President, N.J. Division at American Security
Tom Burbank
Project Manager and Design Engineer at Atlantic Westchester, Inc.
Yuriy Tupychak
Senior Design Engineer at Prime Engineering, P.C.
Kaunteya Chitnis
Vice President – Acquisitions/Development at MCR
Michael Ehrhardt
Vice President at AmTrust
Natalia Asido Vishnevski
Vice President at City Interior Flooring
Nadine Cino
CEO and Co-Inventor at Tygabox
Deborah Bey
Associate at Akerman LLP
Adam Kaufman
Co-Founder and Managing Director at ArborCrowd
Wilson Ting
Director at Besen & Associates
Meridian-capital-group">Bryan Geffen
Broker at Meridian Capital Group
Michael Gronenthal
Licensed Sales Assosicate at Douglas Elliman
Sanjay Mody
Special Counsel at Windels Marx Lane & Mittendorf, LLP
Tzvi Rokeach
Partner at Kramer Levin Naftalis & Frankel LLP
RoseElla Frankiewich
Senior Vice President, Servicing Operations at Arbor Realty Trust, Inc. - Depew Office
Steven Giordano
Senior Director at Shawmut Design and Construction
Francesca Loftus
CEO and Co-founder at hOM
Nick Romito
CEO and Co-founder at VTS
Michael Lee
Partner at HKS Capital Partners, LLC
Jason Kurland
Partner at Certilman Balin Adler & Hyman, LLP
Baruch Edelkopf
Vice President of Sales at EMH Commercial Realty
Jed Dallek
Partner at Gettry Marcus CPA, P.C.
Orry Michael
Senior Associate at Ariel Property Advisors
Richard Maltz
CEO, President at Maltz Auctions
Stacie Alexiou
CEO, Managing Director at Watt and Flux
Kristen Crossman
Associate at CBRE - New York City Office
Prince Addo
Senior Plumbing Engineer / Team Leader at AKF Group
Kim Lovejoy
Senior Business Developer at EverGreene Architectural Arts
Jack Zalta
Broker at Rosewood Realty Group
Seth Kessler
Senior Leasing Advisor at SCG Retail
Daniel Lebor
Director, Business Development at TerraCRG
Marko Glavadanovic
Senior Director at Coldwell Banker Commercial Island Corporate Services
Elizabeth Marchionni
Attorney at Kaufman Dolowich & Voluck, LLP
Kira Krimkevich
Associate at Olshan Frome Wolosky LLP
Cindy McLaughlin
CEO at Envelope City
Yisroel Pershin
Associate Director, Investment Sales at GFI Realty Services, LLC
John Terrana
Partner at Forchelli Deegan Terrana
Daniel Hakimian
Associate Broker at Highcap Group
Bonnie Habyan
Executive Vice President, Marketing at Arbor Realty Trust, Inc. - Uniondale Office
Inbar Mitzman
Associate Real Estate Broker at Daniel Gale Sotheby's International Realty
David Gorelick
Principal at The Gorelick Group
Jessica Stanton
Associate at Olshan Frome Wolosky LLP
Shlomo Gelernter
Senior Director at Besen & Associates