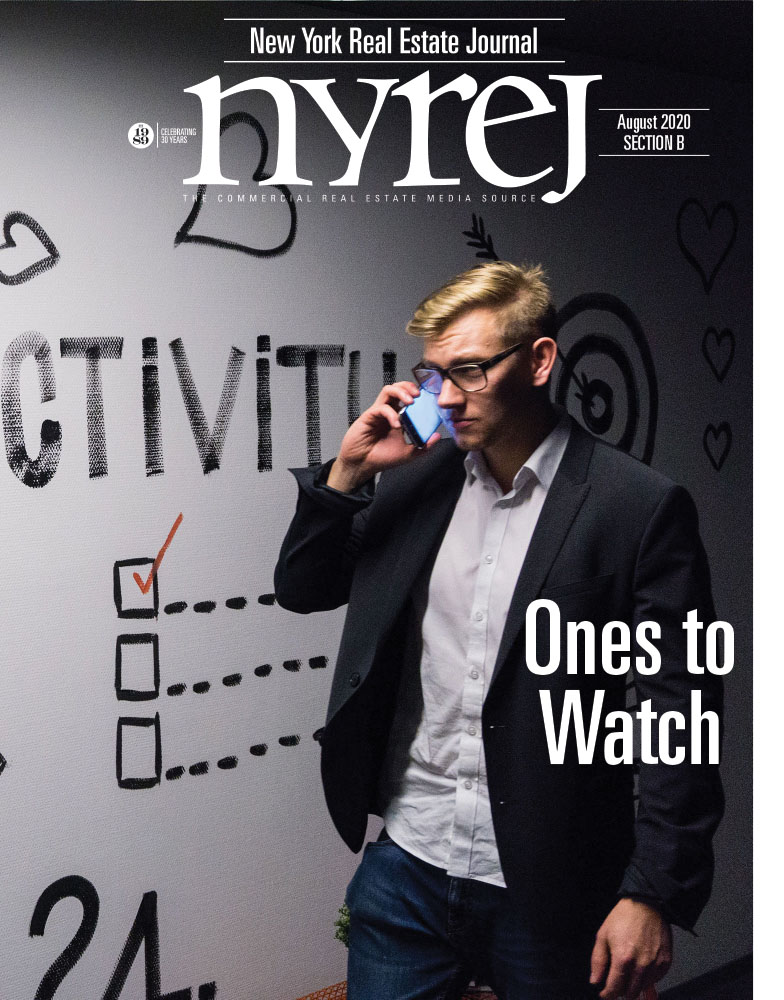 New York, NY The New York Real Estate Journal has published its monthly spotlight, "Ones to Watch," focusing on both up and coming professionals as well as industry veterans across all areas of real estate. Sponsors for this edition include Kramer Levin, Meridian Capital Group, Skyline Properties, Marks Paneth, and Stonegate Real Estate.
Featured in this spotlight are:
Ben Biberaj, Meridian Retail Leasing
Steve Kirschner, IREON, Principals Direct Group, Inc.
Jordan Goldman, Bargold Storage Systems, LLC
Jenny Schiller Vaughn, Herrick, Feinstein, LLP
Brian Sahn, Forchelli Deegan Terrana LLP
William Bonesso, Forchelli Deegan Terrana LLP
Nathalia Bernardo, Kramer Levin Naftalis & Frankel LLP
Josh Winefsky, Kramer Levin Naftalis & Frankel LLP
Caroline Merck, CBRE
Alex Lieber, AKRF, Inc.
Daniel Dillon, The Kulka Group
Mark Taylor, The Kulka Group
Moshe Bloorian, GreyHill Group
Lindsey Judge, LERA Consulting Engineers
Paul Jaffe, Metropolitan Realty Associates
Gustavo Rodriguez, FXCollaborative
Joel Thottam, ME Engineers
Dave Carswell, Largo Capital
Shahid Jafri, Jafri Capital
Michael Castellon, Rosenberg & Estis, P.C.
Daniel Shirazi, Skyline Properties
Shawn Worthington, Skyline Properties
Kamil Praszkowicz, Skyline Properties
Emmanuel Ukah, Skyline Properties
Jacob Lewis, Skyline Properties
Eduard Suleymanov, Marks Paneth LLP
Michael Cardillo, Compass Commercial Real Estate
Robert Kempner, Kempner Properties
JD Summa, Kings Capital Construction Group Inc.
Erik Reynolds, SWBR
Ryan Zegarelli, SWBR
Victor Salem, Tri State Commercial Realty
Eddie Keda, Tri State Commercial Realty
Sam Eshaghoff, West Egg Development
Andrew Dansker, Dansker Capital Group
Elliot Horowitz, H Equities
Leslie Berkoff, Moritt Hock & Hamroff LLP
Robert Logan, The Fuoco Group
Daniel Hopkins, Lynx Mortgage Bank, LLC
Swain Weiner, Greiner Maltz Investment Properties
Lane Matalon, Meridian Investment Sales
Yehuda Leser, Alpha Realty
Maurizio Anglani, Ingram Yuzek Gainen Carroll & Bertolotti LLP
Max Ralby, HKS Real Estate Advisors LLC
Jared Paioff, Schwartz Sladkus Reich Greenberg Atlas LLP
Evan Fox, Berdon LLP
Lynn Senko, Worth Property Managment
Holly Williamson, NELSON
David Goldwasser, FIA Capital Partners LLC
Yaakov Zar, Lev Capital
Etan Slomovic, Castellan Real Estate Partners
Ian Dahlberg, Dahlcore Security Guard Services
Alexandra Marolda, Avison Young
Thomas Bigansky, Stonegate Real Estate
Richard Feinberg, TriForce Commercial Real Estate
Justin Zeitchik, Bestreich Realty Group, LLC
Christina Dadona, King Development and Consulting
Justin DiMare, Newmark Knight Frank
Zach Redding, B6 Real Estate Advisors
Ryan Severino, JLL
Justin Rostoff, Klein Slowik PLLC
Reeves Henritze McCall, CBRE
Eric Sears, CBRE