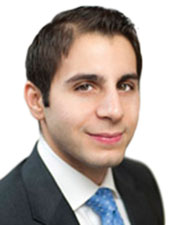 Name: Daniel Shirazi
Company: Skyline Properties
Title: EVP – Investment Sales
Education: St. John's University Tobin School of Business and Touro Law
Which project, deal, or transaction was the "game-changer" in the advancement of your career?
The sale of 516-530 West 25th St. was a game changer because this was the largest transaction Skyline Properties sold using their customized canvassing services.
How do you contribute to your community or your profession?
Myself and my firm have donated to various organizations to help those in need. I also, make myself available as a source to those who need guidance in any transaction.
What led you to your current profession?
Prior to joining Skyline Properties, I was practicing law at a law firm in Manhattan. There I represented lenders, buyers, sellers, landlords and tenants, in the service of transactional real estate law including: leasing, financing, sales and acquisitions of commercial and residential real estate. Using the knowledge of real estate transactional law I felt that I can be the difference in brokering deals by helping my clients navigate through the challenges that any real estate transaction presents.
What do you like most about your job?
Funny enough that we are close to Valentines Day as I have been called a "matchmaker" by my clients many times. I love the process of finding the right buyer for a property.