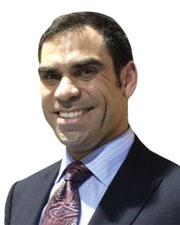 Name: David Goldwasser
Company: FIA Capital Partners LLC
Title: Principal
Education: Post University 2012-2015, Touro College 1993-1996
Which project, deal, or transaction was the "game-changer" in the advancement of your career?
I was involved in a partnership dispute which led to a mediation in which I was the mediator. The properties were worth a few hundred million dollars. It took many months of hard work to get to a point where I proposed a solution where everyone gave in and agreed to walk away amicably. Emotions got the best of one side and I was able to get those to see they won by a non-monetary win, that all deals are really psychological in nature and the money is only the score everyone keeps. It molded the way I work and now I have handled over 200 cases of workouts and bankruptcies with the same mindset.
What do you like most about your job?
I try to bridge the gap between "waring" factions that disagree for reasons they don't understand. When we use our experience and understanding to create solutions that both sides can live with then we have a successful outcome. Presently few parties are happy and there are no good answers. We work through these challenges to create action and a plan with opposite factions who really want the same thing. Even though both sides aren't where they would like to be financially—they realize they are getting the best of the situation.