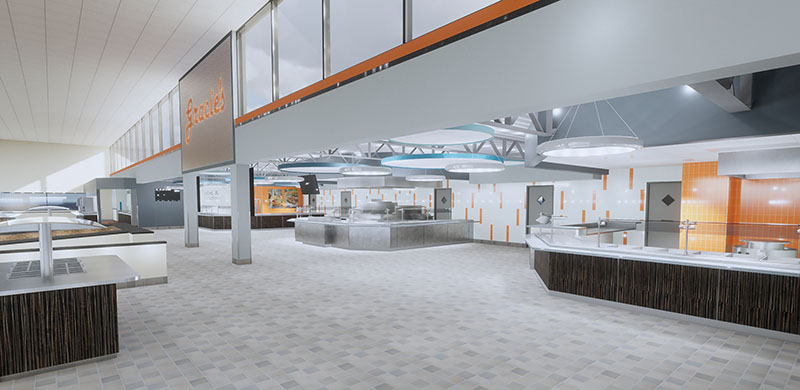 Henrietta, NY TAYLOR, a leading regional commercial general contractor, was awarded the contract for renovation and expansion to the existing dining hall at Grace Watson Hall, a.k.a. "Gracie's." TAYLOR is partnering with its small-projects firm, Empire Commercial Construction, and LaBella Associates on the design and construction of the 12,000 s/f project at Grace Watson Hall on the center of the Rochester Insitute of Technology's (RIT) main campus, located off Andrews Memorial Dr. Construction work is underway, with a project completion slated for August. The project cost was not disclosed.
"We are proud to continue the impressive growth and improvement of facilities at one of the top universities in the nation," said TAYLOR president, Karl Schuler. "Following the renovations by TAYLOR and Empire, the serving area will allow RIT to expand and diversify their menu, and continue a long-standing commitment to providing an unsurpassed on-campus experience for students and faculty."
The dining hall is the largest on the University's 1,300 acre campus and serves thousands of students daily. The project encompasses a large commercial kitchen and adjacent serving stations. New finishes and lighting will refresh the identity, and walls have been replaced with glass stanchions wherever possible. The new layout captures additional staging areas for deliveries and carts, while improving efficiency and sight lines throughout.

Thanks for Reading!
You've read 1 of your 3 guest articles
Register and get instant unlimited access to all of our articles online.

Sign up is quick, easy, & FREE.
Subscription Options
Tags: