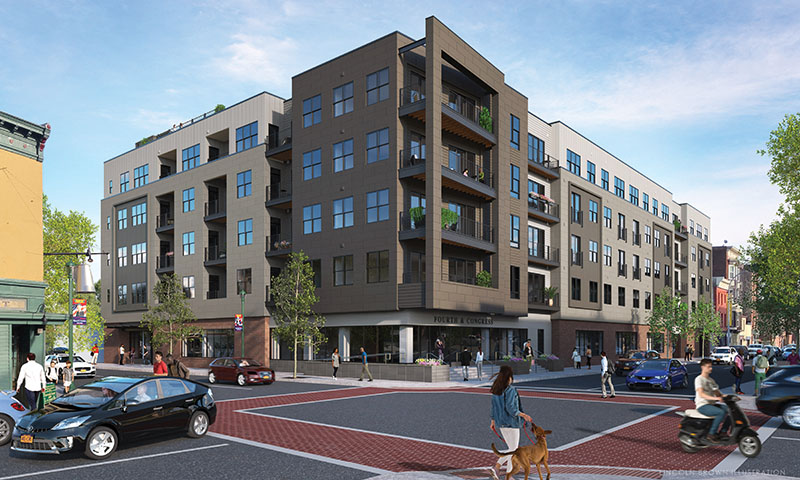 Troy, NY Leaders of The Rosenblum Cos. were joined by state and local officials, members of the business community and neighborhood residents to break ground on Rosenblum's new $18 million mixed-use development at 100 Congress St., and to unveil the building name: Vicina - Modern Urban Flats.
Vicina will be a newly constructed, transit-oriented, five-story building with 80 studio, one- and two-bedroom apartments along with 2,600 s/f of street-level commercial space, environmentally friendly building systems, and amenities for residents including a roof deck with grill station and firepit, fitness center, pet spa, heated indoor bicycle storage, package center, and onsite parking. Apartments are scheduled to become available in phases beginning spring 2020.
Vicina was designed by Balzer & Tuck Architecture. BBL is the construction manager. Alex Kutikov of Redmark Realty is handling leasing of the commercial space.
100 Congress last housed a shuttered bank branch, which Rosenblum has removed. The former one-story,freestanding, drive-through building was constructed in the aftermath of 1960s-era urban renewal, whenhundreds of historic Troy structures including on and around the project site were demolished, displacing residents and small businesses. As a result, although the immediate neighborhood is now seeing positive momentum from a handful of pioneering retailers and restaurants, this area south of Congress St. has suffered from pervasive disinvestment.
The Rosenblum Cos. has already contributed to the city's emergent renewal with The News Apartments, a conversion of the former Troy Record newspaper property into 101 apartments and retail space. Located at the intersection of two main thoroughfares, Congress and Fourth Sts., and one block north of Ferry St./Rte. 2, Vicina will similarly remake the block–an important city gateway–and serve as a link between downtown, the Little Italy neighborhood and the Pottery District.
"We seek out projects that upend expectations and create long term value for our communities," said Seth Rosenblum, CEO of The Rosenblum Cos. "Vicina will reimagine an interrupted city streetscape and repopulate it with over 100 new residents to patronize those great eateries, shops and services that are leading the way."
Vicina, the Italian word for neighbor, neighboring, near, close, next, is both tribute to Little Italy and inspired by the greater connectedness this project intends to promote. In keeping with this theme, the visual identity for Vicina, which was designed by Alana Sparrow of The Foundry in Cohoes, subtly suggests roads and paths as well as adjacent positions. Although influenced by the distinct geometric typography of the Art Deco period, the mark is intended to be timeless like the historic and developing neighborhood in which Vicina is located.
Among the speakers at today's ceremony was Rocco DeFazio, whose pizzeria and import shop have been part of the fabric of Little Italy for decades. DeFazio's is beginning a major expansion just two blocks away from Vicina on Fourth St.
"As a lifelong Troy resident and business owner I cannot express how happy and excited I have been to see what The Rosenblum Cos. has achieved in such a short period of time," said DeFazio. "Their work to reinvigorate Troy's downtown neighborhoods will forever be remembered by the people of Troy."
"The Rosenblum Cos. has been a great partner to the city of Troy through its recent investments, which have brought more residents, more visitors, and more businesses to our city. Now, they are transforming another vacant property into a vibrant hub of economic and residential activity. This is not an easy site to develop, but The Rosenblum Cos. is taking on the challenge, encouraging further growth and investment into our community and rebuilding Troy as a place where families can live, work and play," said mayor Patrick Madden.
"I want to congratulate The Rosenblum Companies for this exciting new project that they are embarking on in Downtown Troy. This builds upon the strong commitment that The Rosenblum Companies has to Troy and Rensselaer County; their News Apartments project was a spectacular success and I know this new commitment to our area will be just as good. Recent census data has shown that Rensselaer County is attracting residents from other Capital Region communities to our great County. Capital Region residents are recognizing the fact that Rensselaer County is the place to be for living and job opportunities. This new project will assist us in attracting even more people into our thriving and vibrant community," said Rensselaer County executive Steve McLaughlin.
"The city of Troy has already benefited from The Rosenblum Cos.' work with The News Apartments, which has attracted new residents and businesses to Rensselaer County. I anticipate that success will be repeated with this newest endeavor, and will also encourage visitors to see more of Troy and its neighborhoods. The continued growth of the business community in areas surrounding the downtown core in Troy is encouraging, and this is the next chapter in that story", said Kate Manley, president of the Rensselaer County Regional Chamber of Commerce.
"The Rosenblum Cos. has played an important role in strengthening Troy's expanding downtown through The News Apartments, both by attracting new residents to Troy and through the businesses that have located there at street level. It is exciting to watch their impact grow in another area of the district, bringing additional residents downtown and fostering new and expanding businesses," said Katie Hammon, executive director of the Downtown Troy Business Improvement District.