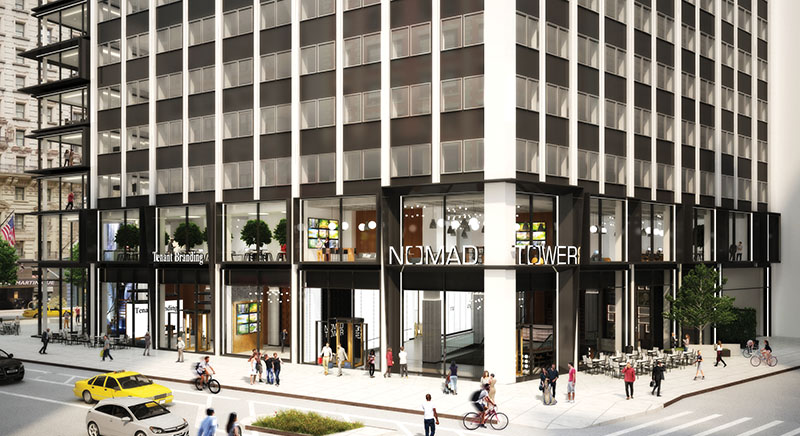 Manhattan, NY JLL has completed a 15-year lease totaling 123,516 s/f with TransPerfect for Global Holdings Management Group's NOMAD Tower, 1250 Broadway.
TransPerfect will relocate from 3 Park Ave. to occupy space on five full floors, including the fourth through seventh floors and the 32nd floor. The company will also receive a private ground-floor lobby and entrance.
NOMAD Tower was represented by Paul Glickman and Mitchell Konsker, vice chairmen; Benjamin Bass, managing director; Diana Biasotti, senior VP; and Harley Dalton, vice president, with JLL. Craig Panzirer, senior VP and director of leasing, represented Global Holdings Management Group in-house. TransPerfect was represented by John Isaacs and Christopher Mansfield, executive VPs, and Peter Gamber, financial analyst, with CBRE Group Inc., along with Rob Kulik with Real Broker LLC.
"NOMAD TOWER is a market leading high-rise, glass and steel office tower located in one of New York's most vibrant neighborhoods," Glickman said. "NOMAD TOWER offers tenants unparalleled access to in-building amenities, including a two-story amphitheater with seating for almost 100 people, and a multi-faceted, tenant-only amenity lounge."
TransPerfect is the second tenant to sign a major lease at the building—following Zillow Group's lease of 130,000 s/f in late 2018—under the ownership of Global Holdings, which purchased the property in 2016. Global Holdings is now completing a major, $50-plus million capital improvement campaign and repositioning effort for NOMAD TOWER, including an extraordinary new lobby that opens in the first quarter of 2019. The theme "Love Your Workplace" is behind the building improvements, including the extensive amenity options.
TransPerfect president and CEO, Phil Shawe, said, "Of our 5,000 employees worldwide, over 800 are located in New York City alone. TransPerfect's commitment to growing our business in New York City is steadfast and resolute. To support that growth, we needed to choose a new location for our headquarters that would provide us the space we need now and also the opportunity for future growth. We expect our staff will enjoy such benefits as close proximity to commuting options, having a centralized midtown location from which to service clients, working in a trendy and up-and-coming neighborhood, and the building's amenities which fit well with our culture." Shawe continued, "TransPerfect is a 27-year old industry leader with the energy of a start-up, and 2018 marked several significant milestones for our business. We're extremely excited to partner with Nomad Tower to turn this new page in our history and to provide our team with a world-class headquarters for years to come."
The growth of hotel, retail, residential and office developments throughout the NoMad neighborhood has positioned the area and NOMAD TOWER as a leading destination in the city. The property is close to 12 subway lines including the 1-2-3-B-D-F-M-N-Q-R-W-6, direct access to the PATH, walking distance to Grand Central and Metro-North, and is within one block of Penn Station and the LIRR, Amtrak, NJ Transit and more. NOMAD TOWER is one of the only full-service class-A towers of its size in the Midtown South/NoMad market.
Built in 1968 and designed by architects Shreve Lamb & Harmon, the 39-story NOMAD TOWER stands out in the Midtown South submarket with unobstructed, 360-degree views on the tower floors. It is the tallest reinforced concrete building in Manhattan with waffle ceiling details throughout the space and features a 150-car indoor parking garage. It is LEED Certified Gold and Energy Star certified, as well as Wired Certified Gold, offering best-in-class broadband and fiber connectivity with easy tenant access and protection against service interruption.