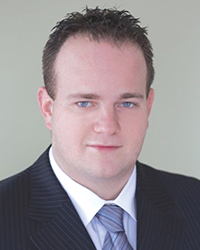 Highcap Group
" width="200" height="250" /> Josh Goldflam,
Highcap Group
Queens, NY 
Josh Goldflam, managing principal of Manhattan based investment sales firm
Highcap Group
, has received the exclusive listing for the sale of the property located at 26-49 96th St. in the East Elmhurst neighborhood. The building is also known as Elmhurst Gardens. This is the first time in 32 years that the property has been offered for sale. Located 2 blocks north of Northern Blvd. and 1 block south of Astoria Blvd, the apartment complex is in close vicinity to Grand Central Parkway and LaGuardia Airport. The building enjoys a large archway entrance with large interior courtyard and has frontage on 30 th Ave., 96 th St., and 97 th St. The block-front property consists of 56,584 s/f with 69 large apartments. The rooftop also houses 2 sets of cell antennas providing additional income. The property has approximately 75% of Section 8 tenants that are paying a low average rent of approximately $1,100 per month. "This is a very rare opportunity to own a prime block-front property in a very solid Queens neighborhood. Its very tough to come across these large apartment complexes that have had a long term ownership like this one. Additionally, once the J51 tax abatement expires on this property there is excellent upside rent potential if the seller decides to renovate and upgrade the units," said Goldflam.