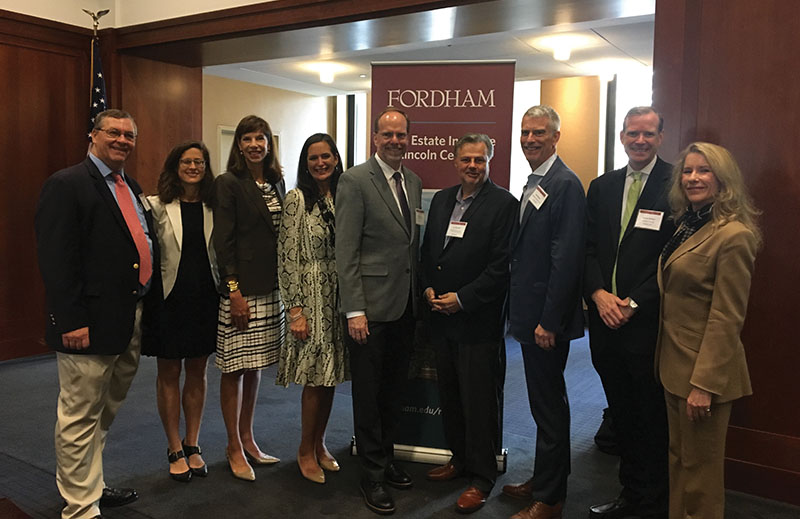 New York, NY Fordham Real Estate Institute (REI), Columbia University, the Counselors of Real Estate and the Real Estate Board of New York co-hosted a forum, "Offense/Defense: What's the Late-Cycle Real Estate Playbook?" The breakfast panel took place on Wednesday, October 2nd at Fordham's Lincoln Center campus. At the event, leading real estate thinkers and practitioners discussed where we are in the real estate cycle, the major players on the field and ideas, perspectives and strategies for optimizing your position.
Following welcome remarks from Dr. Anthony Davidson, dean of Fordham School for Professional and Continuing Studies, the event began with a kick-off from Neil Madsen, principal at Madsen Advisors, LLC and member of the Fordham REI Executive Advisory Council. Next, a fireside chat with Dr. Hugh Kelly, director of graduate programs, Fordham REI, and president, Hugh Kelly Real Estate Economics, and special guest Dr. Melissa Reagan, managing director and head of research, Nuveen Real Estate, focused on how real estate investors can and should adapt their portfolio at this point in the industry cycle, including looking at opportunities outside of major cities.
"We are definitely trying to see which cities will have the biggest growth in residents over the next ten years," said Dr. Reagan. "Millennials and Gen Xers are moving out of expensive cities. They want Brooklyn or Oakland in Charlotte or Atlanta. There are 35 'growth' cities in the United States, and a smart investor will consider opportunities in these areas to strengthen their portfolio."
"You also have to take into account what cities will be the most resilient against environmental factors, such as climate change, and which are at best poised to adapt to technology disrupters," said Dr. Kelly. "These are all prevalent factors considered in the investment process."
The second half of the event featured an expert panel discussion on the outlook for the late stage of the cycle and how investors can best poise themselves for success. Patrice Derrington, director, Real Estate Development Program, GSAAP, Columbia University, moderated the discussion. Featured panelists included:
Melissa Burch, executive general manager at Lendlease;
Rich Walsh, head of structured lending and co-portfolio manager for the fund at New York Life;
James Nelson, principal and head of Tri-State investment sales at Avison Young; and
Sara Queen, head of asset management and operations at Mapletree.
This event was sponsored by Streamline Realty Funding.
During the conversation, the experts honed in the biggest factors impacting the industry at the moment, including transit-oriented developments, the continued struggles of retail, disruptors like WeWork and the rise of office amenities, and following employment trends to find the best opportunities to invest. And while looking outside of the city limits was a topic of discussion, the panelists all claimed that there were still bright spots in the New York market.
"If you look at the multi-family arena, cities cannot meet the need due to lack of space. You can't accomplish all of that in the city," said Nelson. "How is New York going to rebound? It's the jobs. That's the biggest driver when talking about investment opportunities. Amazon, Google, Facebook…they're all expanding here. New York is still a good bet."
"New York City remains the real estate capital of the world, but we would be remiss not to pay attention to the state of the industry as a whole," said Dr. Davidson. "Factors impacting big cities trickle down to the suburbs and smaller markets. As we look ahead to 2020 and beyond, we are thankful that our esteemed speakers were able to share their perspectives and strategies on how to stay ahead in the market. We thank them, as well as our co-presenters, for a truly insightful morning."