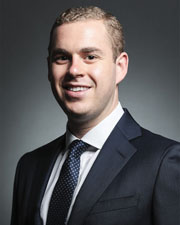 Manhattan, NY According to B6 Real Estate Advisors (B6), the firm has appointed Drew Ahlers as associate director in B6's Capital Advisory Division. Ahlers will be reporting to Steven Sperandio, partner and senior managing director, and Dylan Kane, managing director, of the Capital Advisory Division. He will be responsible for sizing the team's debt and equity placement opportunities, preparing offering materials and executing deals.
Prior, Ahlers was an associate director at Newmark Knight Frank (Newmark) on the New York Debt & Structured Finance team. During his tenure at Newmark, Ahlers was directly involved in the arrangement of over $2 billion of debt and equity financings. Prior to Newmark, Ahlers was an associate at MidCap Financial where he underwrote and executed debt financings across the U.S.
"As B6's Capital Advisory practice continues to expand, we are attracting top young talent, allowing our team to provide the highest level of service to meet our clients' needs," said Joseph Tufariello, president of the Capital Advisory Division at B6. "Drew brings a strong background working across a variety of asset types and transactions and we're fortunate to have him."
"B6 offers an unparalleled opportunity to grow and learn in an entrepreneurial environment, alongside incredibly talented professionals," said Ahlers. "I value the firm's disciplined approach and I look forward to contributing to the continued growth of both the Capital Advisory Division and the B6 brand."
Ahlers earned his bachelor's degree from Tulane University.