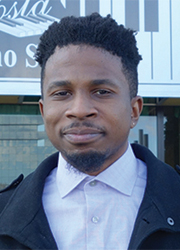 Garden City, NY Rashaad Peters has joined American Investment Properties Inc. as marketing associate, according to the firm's president, Ron Koenigsberg.
Peters, a resident of Queens Village, formerly was a marketing analyst at Sharestates Inc., a real estate investment company in Great Neck.
Peters is charged with managing AIP's social media and online presence, as well content creation and design.
"Rashaad brings to AIP a robust background in real estate and previous experience in marketing real estate investments," said Koenigsburg.
He received a bachelor of arts degree in Communications and Media Studies from Queens College in 2015. An automotive and aviation enthusiast, Peters regularly attends car meets or shows, and loves to watch aviation documentaries.
Founded in 2001 by Koenigsberg, AIP specialized in the sale and acquisition of commercial real estate in Nassau and Suffolk Counties and has participated in property sales valued at several hundred million dollars.