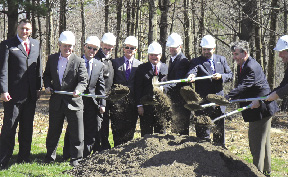 The Capital District YMCA Bethlehem Branch celebrated the groundbreaking of a new pavilion recently.
Those who attended the event were Capital District YMCA president and CEO David Brown and New York state senator Neil Breslin.
Breslin helped secure a $250,000 grant from the Dormitory Authority of the State of New York (DASNY)
The project is expected to be completed in the beginning of June. The project costs $477,000.