Queens, NY Westbridge Realty Group, a Manhattan-based full service investment sales firm, has completed the following sales totaling $15.825 million: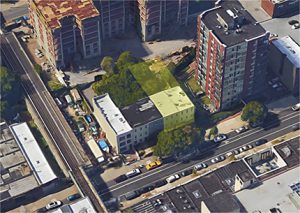 Aerial, 906-908 Bergen Street - Brooklyn, NY
• The $5.5 million sale of a three building portfolio at 1705, 1707, 1725 Putnam Ave. in the Ridgewood, neighborhood. This sale spans a total of 16,900 s/f on the same block. All three partially occupied buildings are six-unit buildings in the process of being converted to eight-unit buildings. The closing price equated to $325 per s/f, $252,000 per unit, and 12 times the current rent roll.  Westbridge's Steven Westreich represented the buyer, Duke Properties and Marcus & Millichap's Shaun Riney represented the seller, a local Brooklyn-based landlord.
• The $4.25 million sale of  906-908 Bergen St., two adjacent properties in Prospect Heights, Brooklyn  with a development potential of 16,600 s/f. Westbridge Realty's Hen Vaknin arranged the sale, which involved two different sellers in two different transactions.
"This transaction is slated to be a home-run condominium development for the purchaser," said Vaknin, who saw the value and potential in combining the parcels. "This complicated transaction resulted in a win/win scenario for all parties," said Westreich. "The sellers commanded a premium for their assets, and the buyer entered the deal at a favorable basis of $256 per buildable s/f."
• The $3.1 million sale of 361 Miller Ave., a 20-unit multifamily building in East New York, Brooklyn. The fully occupied building spans 16,720 s/f. The closing price equates to $185 per s/f, $155,000 per unit, and 9.45 times the gross rent roll. Westreich and Isaac Shrem of Westbridge represented the buyer and seller in this transaction, which Westbridge was exclusively retained to handle.
• The $1.6 million sale of 107 Cornelia St. in Bushwick, Brooklyn. This is a six-unit multifamily building delivered with four vacant units. The apartments are two-bedroom, two-bathroom apartments.   The closing price equates to $266,000 per unit, and $355 per s/f. Westreich represented both the buyer, Duke Properties and the seller, Peter Yatrakis, a private investor who previously owned the property since 2001.
• The $1.375 million sale of 1214-1216 Greene Ave. in Bushwick, Brooklyn which is a 32 x 100 foot lot with 7,040 s/f of development potential.  The purchase price equates to $195 per buildable s/f. Vaknin represented both the seller Danny Ihne, and the buyer, a Brooklyn-based developer 1214 Greene LLC.