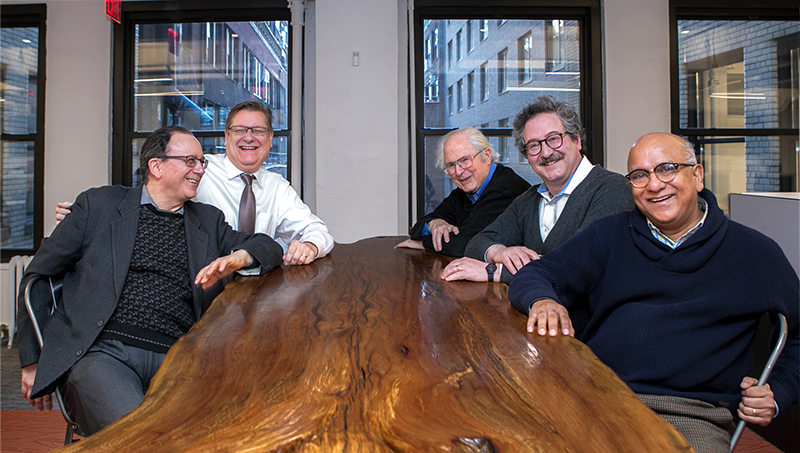 Manhattan, NY Urbahn Architects held a reception to celebrate the relocation of its headquarters office to GFP Real Estate's 306 West 37th St. More than 300 real estate, architecture, engineering, construction, finance, and facilities management professionals attended the event.
Five principals – Donald Henry, Jr., AIA, LEED AP; Natale Barranco, AIA, LEED AP; Martin Stein, AIA; Rafael Stein, AIA; and Ranabir Sengupta, AIA, LEED AP – lead the firm.
Known for both its architectural design quality and technical skill, Urbahn produces projects in the education, science, residential, healthcare, justice, transportation, and infrastructure sectors.
According to Urbahn principal Donald Henry, Jr., "The move reflects our rapidly expanding practice and growing staff of architects, planners, and project managers. The annual value of Urbahn's current domestic and international projects exceeds $500 million."
"Our current design work spans the entire spectrum of commercial and public projects, from extensive renovations of New York City subway stations to university campus master planning in India, and large, market-rate multi-family developments in Queens, NY," said Urbahn principal Rafael Stein, AIA. "The new office will allow us to hire additional design and support personnel and provide a comfortable and highly collaborative work environment for our entire team."
The 14,000 s/f new office houses a reception area, private offices, conference rooms, an open-plan office section, a pantry, and support facilities.
Urbahn's recent and current work includes the Arverne by the Sea Tides North multi-family residential development in Arverne, NY; the Centro Medico Correccional in Bayamon, Puerto Rico; the Jersey City Municipal Services Complex, Jersey City, NJ; Usha Martin University Master Plan in Ranchi, India; the Lehman College School of Nursing Education, Research, and Practice Center in the Bronx, NY; the New York City Hall Mayoral Offices and Emergency Situation Center and Public Health Lab Redevelopment Master Plan in New York, NY; the Engineering Innovation Hub at the SUNY New Paltz University in New Paltz, NY; and the New York City Transit's Enhanced Stations Initiative packages 1 and 8.
Formerly Newmark Holdings, GFP Real Estate is one of New York City's largest private owners and managers of commercial real estate. Led by Jeffrey Gural, Eric Gural, and Brian Steinwurtzel, the firm is a vertically integrated owner, operator, property manager, and developer of commercial real estate with its 63-year history of hands-on asset management and its portfolio of more than 10 million square feet of commercial properties throughout New York City. Barbara Yagoda represented the ownership in the lease transaction and Kenneth Kronstadt and Ricky Kramer of Newmark Knight Frank represented Urbahn Architects.