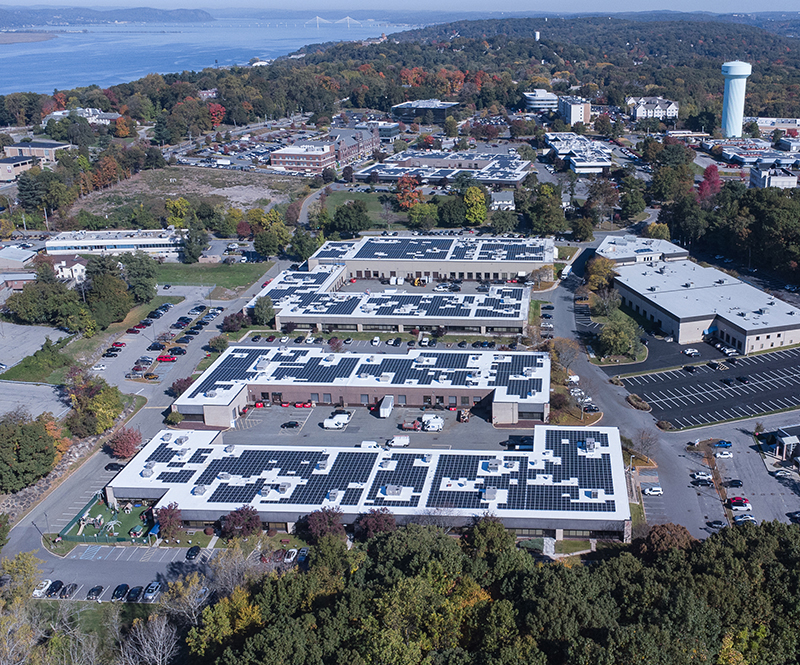 Elmsford, NY Robert Martin Company (RMC) negotiated 586,000 s/f of new leases, renewals, and expansions at its properties in Westchester for 2022. Leasing activity reflects the ongoing strength of Robert Martin Company's flex/industrial park properties strategically located within key distribution hubs along Westchester County's network of interconnecting major roadways with access to millions of business customers and consumers within a short driving distance.
Among the larger leases signed throughout the year were ABB/Con-Cise Optical Group, 63,017 s/f (renewal) at 4 Skyline Dr., Hawthorne; The Food Bank for Westchester, 55,213 s/f (renewal/expansion) at 200 Clearbrook Rd., Elmsford; Ferguson Enterprises, 44,270 s/f (renewal/expansion) at 175 Clearbrook Rd., Elmsford; Altice, 38,900 s/f (renewal) at 6 Executive Plaza, Yonkers; BTX Technologies, 23,060 s/f (renewal) at 5 Skyline Dr., Hawthorne; Boxed Elmsford Max, 18,963 s/f (new) at 400 Executive Blvd., Elmsford; and Clarapath, 17,600 s/f (expansion) at 12 Skyline Dr., Hawthorne.
"Successfully navigating through a challenging 2022 meant relying on the company's experienced team of industry professionals who provide exceptional, hands-on tenant management for the benefit of our existing and new tenants needs, upgrade infrastructure where needed and invest in green technologies – such as rooftop solar – throughout RMC's portfolio," said CEO Tim Jones of the Robert Martin Company.
"Intimate knowledge of the marketplace, strong tenant relationships and our highly skilled team of RMC professionals remain our greatest strengths and formula for success. We are optimistic for 2023 and beyond," said Greg Berger president of Robert Martin Company.

Thanks for Reading!
You've read 3 of your 3 guest articles
Register and get instant unlimited access to all of our articles online.

Sign up is quick, easy, & FREE.
Subscription Options
Tags: