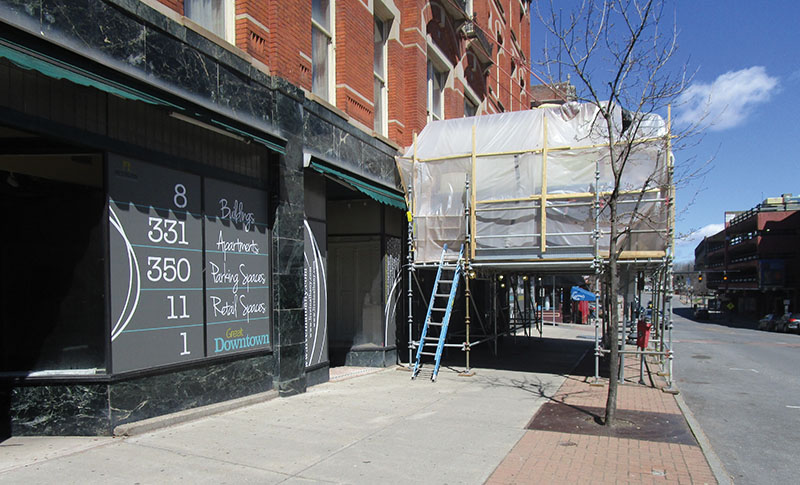 Albany, NY The second $34.5 million phase of a $78 million investment downtown is under way with the mixed-use renovation of the historic Kenmore Hotel building at 76 North Pearl St. According to governor Cuomo, Redburn Development Partners will invest $78 million to renovate and rehabilitate seven buildings in the city's downtown area.
Redburn Development will transform the vacant 196,000 s/f Kenmore building into 123 market-rate apartments and 36,000 s/f of commercial space. The project will create 24 permanent jobs and 113 construction jobs. Redburn Development is aiming to have the street front retail portion ready for this summer and plans to have the project completed by the fall of next year. Redburn is currently seeking assistance in the form of New York State sales and mortgage recording tax exemptions through the City of Albany Industrial Development Agency's application process, and it will pursue the 485-a program through the city Assessor's Office. Redburn Development will also pursue state and federal historic tax credits.
A significant investment, furthering the Impact Downtown Albany strategy implementation, the total estimated $78 million investment will create 350 mixed-income apartments and more than 50,000 s/f of commercial and retail space that is expected to attract at least 450 new residents. Empire State Development is providing a $5 million performance-based capital grant, including $2 million as part of the Capital Region's Upstate Revitalization Initiative.

Thanks for Reading!
You've read 1 of your 3 guest articles
Register and get instant unlimited access to all of our articles online.

Sign up is quick, easy, & FREE.
Subscription Options
Tags: