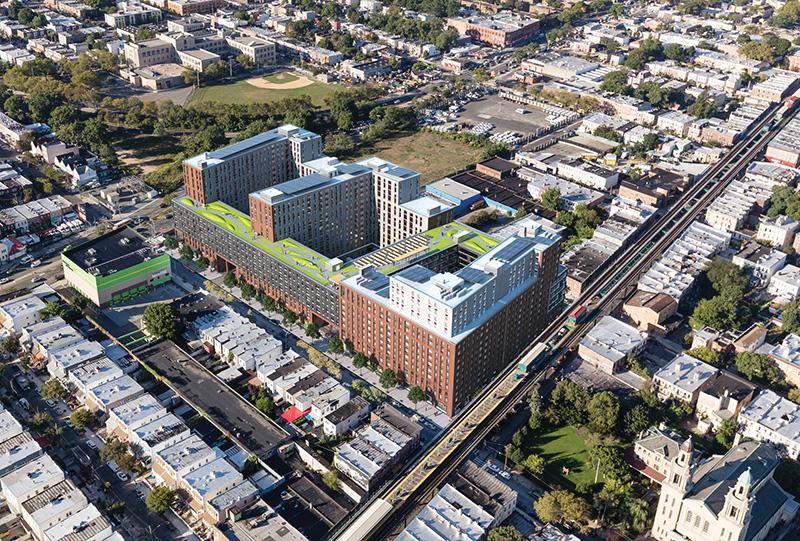 Brooklyn, NY Phipps Houses, one of New York City's oldest and largest not-for-profit provider of affordable housing, has closed on $217 million in construction financing for Atlantic Chestnut 1, the first phase of what will be the largest project developed under the 2016 East New York rezoning. Financing was provided by the New York City Department of Housing Preservation and Development (HPD) and the New York City Housing Development Corp.'s (HDC) ELLA Program and by Wells Fargo. The project is also a volunteer in the NYS Department of Environmental Conservation's Brownfield Cleanup Program. The project was designed by Dattner Architects and is being built by Monadnock Construction.
Located at 250 Euclid St., Atlantic Chestnut 1 will range from eight to 14 stories and include 403 deeply affordable apartments available to families earning between 40 and 80% of Area Median Income (AMI). 15% of all units will be set aside for the formerly homeless through the NYC HPD's Our Space initiative. Construction will begin soon, with an expected completion in the Fall of 2023.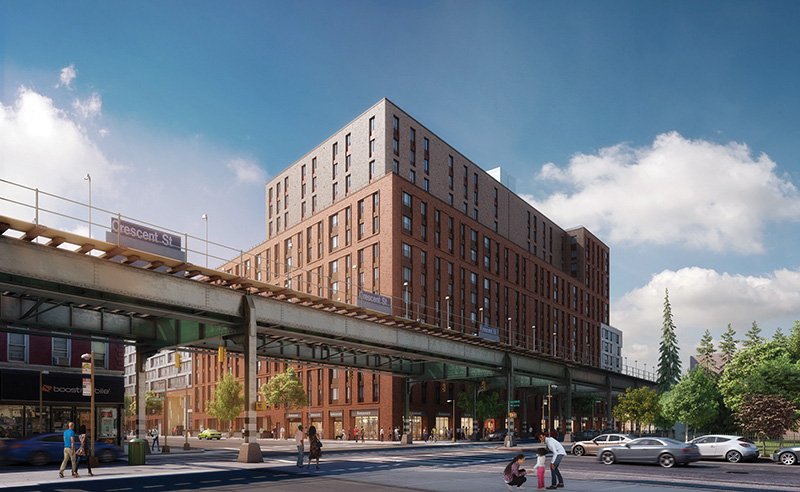 Atlantic Chestnut 1 will also include 21,352 s/f of commercial and community space, including space where local users will receive preferential rents, as well as several ground floor amenity rooms for tenants, a courtyard and a landscaped rooftop deck called the Ribbon. Nearly half of the building's apartments will have two or three bedrooms, 41% will have one bedroom and 10%will be studios. Phipps' social services arm, Phipps Neighborhoods, will also provide a range of on-site support services for both residents and the neighborhood.
Overall, the Atlantic Chestnut development will include three mid-rise apartment buildings featuring 1,100 affordable apartments, along with 60,000 s/f of commercial and community facility space, attended parking for 200 cars, and amenities for its residents including landscaped courtyards and roof deck, fitness and children's play areas, a lounge and a party room.
The site is the former location of a long-abandoned factory, which was destroyed by a fire in July 2014. Contamination from former industrial uses is being remediated through the New York State Brownfield Cleanup Program. The site is bounded by Atlantic Ave. to the south, Chestnut St. to the west, Fulton St. to the north and Euclid Ave. to the east in the Cypress Hills / East New York neighborhood.
Atlantic Chestnut 1 is a block from the Crescent Street J/Z subway station and is also walking distance to City Line Park, which underwent a $5.2 million renovation in 2019.
"Having followed the plans for the Atlantic Chestnut development from its beginning, I am delighted to see the overwhelming commitment our partners—Phipps Houses, HPD, HDC, Wells Fargo, Dattner Architects, and Monadnock Construction—have shown in working together and seeing this through," said deputy mayor for housing and economic development Vicki Been. "The development will bring almost 1,200 homes to New Yorkers in East New York, including a significant percentage for our formerly houseless community. This builds on our momentum to meet the city's goal to provide 300,000 affordable homes by 2026."
"Our commitment to an affordable city must ensure that we build units that allow families to grow in their homes and build deep connections in their neighborhoods," said Adam Weinstein, president & CEO of Phipps Houses. "We look forward not only to providing nearly 1,200 units of critically needed, deeply affordable housing on this long-vacant site, but also to providing on-site support for residents and the community through service programs in partnership with community-based service providers.
"The Atlantic Chestnut project represents the promise of the East New York rezoning to transform the neighborhood through high quality affordable housing and community assets. This first phase of the project will bring more than 400 deeply affordable homes to a long-vacant site, which will ultimately give rise to nearly 1,200 affordable homes," said HPD commissioner Louise Carroll. "We are proud to partner with Phipps Houses and the community to support new area investments to strengthen the East New York neighborhood for current and future generations of residents."
"The ENY Neighborhood plan was always about creating deeply affordable housing to blunt the forces of gentrification," said former city council member Rafael Espinal. "With close to 1,000 units slated to be constructed on the site, this project will continue to bring much needed affordable housing and services to Cypress Hills and residents across the city so that those who've helped build our city continue to remain here. Looking forward to the seeing Phipps vision for the site come to fruition."

Thanks for Reading!
You've read 1 of your 3 guest articles
Register and get instant unlimited access to all of our articles online.

Sign up is quick, easy, & FREE.
Subscription Options
Tags: