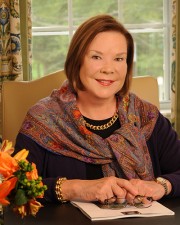 Cold Spring Harbor, NY Patricia Petersen, president and chairman of Daniel Gale Sotheby's International Realty has been recognized among the 200 most powerful leaders in the residential real estate brokerage industry. She was named to the Swanepoel Power 200 (SP200), recognized as the definitive ranking of the leaders and executives in the residential real estate brokerage industry. The SP200 is published annually by T3 Sixty.
Through her planning and leadership of 25 years, she has become an industry leader as Daniel Gale Sotheby's International Realty has become a powerhouse in residential real estate—a $3.3 billion organization with 27 offices and 900 sales agents. She joined Daniel Gale Sotheby's International Realty as a sales associate in 1974 and quickly assumed managerial roles of increasing responsibility. She was named president and chief executive in 1991 and served in that role until earlier this month, when she stepped aside as CEO, naming Deirdre O'Connell to that position, but would continue to serve as president and chairman of the organization.
Her career has been defined by a keen vision that identifies growth opportunities and the marketing and technologies that support that growth. A hallmark of her leadership is her decision in 2005 to reaffirm a decades-long association with Sotheby's International Realty as it changed its affiliate model. Pat saw the long term value in the affiliation, certainly because of Sotheby's strong brand but also for the ever greater value in unmatched exposure to a national and international audience through Sotheby's extensive worldwide marketing and networking.
To select each year's SP200, hundreds of bios, annual reports, transactions and sales volume numbers are scrutinized. Leaders are evaluated based on the office they hold, the decision-making power associated with the office, the financial resources at their disposal, their organization's industry significance and geographical reach, public announcements about imminent changes, their tenure and their personal influence in the industry.