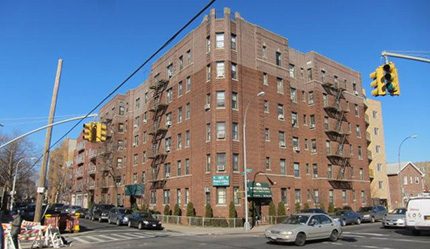 New York, NY Meridian Investment Sales, the commercial property sales division of Meridian Capital Group, sold the 60-unit multifamily building located at 1695 East 21st St. in the Midwood neighborhood of Brooklyn to S. Antonio Realty for $17.6 million on behalf of Rankell Associates. Meridian senior executive managing director, David Schechtman, director, Abie Kassin, and vice president, Jason Goldy represented the seller, Robert Rankell and also procured the buyer.
The six-story, 60-unit post-war brick elevator building is located on a quiet, tree-lined street typical of this safe, family-friendly neighborhood. The building provides a tranquil oasis away from the hustle and bustle of Manhattan while blending the best of what Brooklyn has to offer. The apartments at the property average 1,050 s/f and rents average $1,295 per month.
The building is bordered by Kings Hwy., a street with a range of commercial offerings including restaurants, pharmacies, banks, and national chains, including Starbucks, Rite-Aid, and TJ Maxx. Three blocks north, Avenue M, has additional shopping, cafes and restaurants, including delis and bakeries.
The multifamily property is near to the B and Q subway lines at the Kings Hwy. station, and near the BM1, BM3, and BM4 local and express bus routes.
"Midwood has long been a great residential neighborhood and with a limited supply of multifamily buildings in the area we were able to achieve a price of $293,000 per unit and a 19.5 gross rent multiple," said Schechtman.