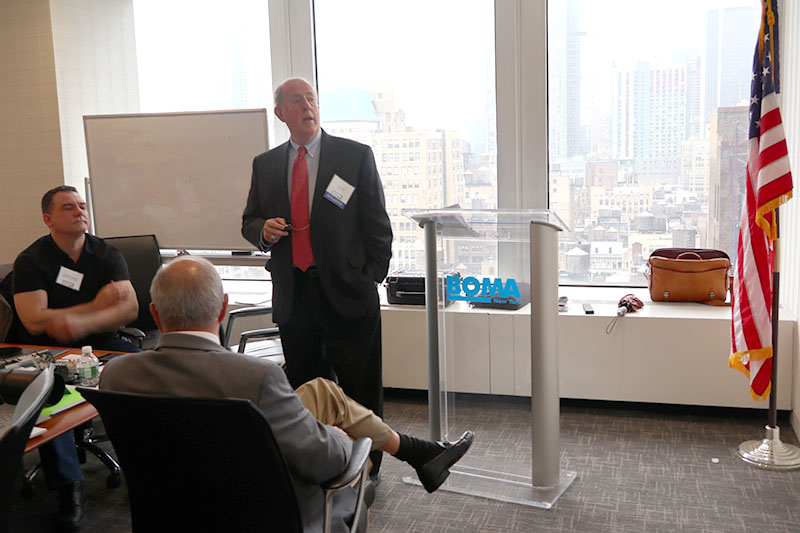 New York, NY BOMA New York continues to sell out its monthly Lunch & Learn programs. On March 21st, John Griffin and Jon Darcy, from Advanced Concept Energy Solutions, addressed the packed boardroom to review the challenges associated with dated perimeter induction units and the best practices for operators to improve its energy reduction.
With over two million induction units throughout New York City, the majority of them are more than 50 years old. The issues that we're still dealing with today were first brought to light in the 1980s when building engineers deemed that induction units consumed too much energy. In fact, the highest energy users in the city are buildings with perimeter induction units and steam turbines. Older buildings are further challenged by new commercial developments, resulting in large vacancies in many of these older buildings. Griffin and Darcy expressed that tenant roll presents an opportunity to modernize space.
Griffin said that induction unit fans run as high as 350 horse power at 100% year-round. He followed by said, "But they don't have to be." John said that there's nothing wrong with induction systems, as they produce excellent heating and cooling to the building perimeter. However, older induction units must be tamed and need to use less energy. The duo presented possible solutions to address both fulltime operation and the management of after hour AC and heat.
The first and most obvious solution is to replace the aging induction units with modern units that utilize lesser amount of primary air. Operators are used to replacing coils, cooling towers and chillers – all of which provide buildings with a long return on the investment. One successful case study of induction unit replacement is the Seagram Building, located at 375 Park Ave. Ownership was dealing with a large imbalance of circulated air. The induction ratio was operating at less than 50% of capacity and a massive energy draw. Griffin's team replaced 1,600 induction units in three-months, resulting in an energy savings of $960,000 in its first year. However, new induction units are expensive and sometimes cost prohibitive.
Another solution is to look beyond the hardware and replace failing windows, as well as reskin the façade of a building to create a tighter seal and stronger envelope. A great example of this is what Rockefeller Group did at 1271 Avenue of the Americas, AKA the Time & Life Building. This was part of a full building capex project, and rarely seen.
Other operators have tried to install floor dampers. This proved inefficient for three reasons. First, the dampers were not created to work with high-pressure systems, resulting in inconsistent coverage on the respective floor. Second, since you can't throttle these dampers, they create a significant amount of noise. Third, a quality damper is expensive. Mr. Darcy said, "Noise does not come from nozzles, a common misconception. Noise comes from a preexisting damper."
Over the years, Griffin and Darcy surveyed and analyzed many buildings. In recent years, 3D printing afforded them the ability to create and test many different molds. The result – true, tried and tested – is an Induction Air Valve (IAV). The shape is not round; rather it's oval, with multiple tangs to break up the airflow. Essentially, it breaks down the full airstream to mini airstreams – reducing airflow by 25% – resulting in a 58% reduction in fan horsepower. The IAV also drops the pressure before it gets to a preexisting damper, minimizing noise as well.
Darcy noted an additional benefit, disclosing that the IAV provides building managers with the ability to control the perimeter systems floor by floor – cutting after hour AC and Heating by 75%.
Griffin pointed to tests at the largest privately-owned office building in America, located in downtown New York. These tests showed a 70% reduction in horsepower during the heating season. He said, "Simply put, the IAV solution works. In an average one million square foot commercial building, perimeter fan horse power can be reduced by over 390 hp – a result of 1,325,000 kWh saved or approximately $600,000 – with an ROI that's realized in less than three years."
Griffin detailed that the IAV is good for 100 years and the installation is quick (15 minutes). He described that the IAV can be cut in direct-to-line or installed with shrink tubing. With an appreciation for efficiency and big data, he recommended to install the IAVs when lint screens are scheduled to be cleaned and advised that the IAV can be installed with a sensor that ties into a building automation system.
Darcy encouraged the room to review the economics of upgrading their induction systems to variable air volume, including replacing the induction units and concluded with a few operational practices to optimize the effectiveness of induction and a new IAV. He reminded the room that operators should still change induction unit filters every 18-months, as well as reviewed the recommended percentage of primary air intake and water temperature during the winter and summer months for a win-win-win – landlord, tenant and environment.
For more information and questions, please call the BOMA New York office at 212-239-3662.