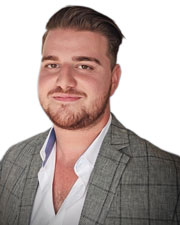 Name: Moshe Akiva
Company: Tri State Commercial Realty
Title: Senior Associate
Which project, deal, or transaction was the "game-changer" in the advancement of your career?
I would say that 268 Metropolitan Ave., a coworking space leased to Monocle Vision LLC, was a game changer for me. Williamsburg is one of the hottest spots in Brooklyn, and having the chance to work with a tenant that has a long-term vision for the location and neighborhood was truly rewarding. I am looking forward to seeing the talent that emerges from the companies that utilize the space.
How do you contribute to your community or your profession?
I donate and raise funds for an organization called ATime, which assists childless families through the struggles of infertility. It is rewarding to be a part of helping people not feel so lonely during what can be a challenging journey.
What led you to your current profession?
My desire to help people, and give them their first chance to establish a location for their business, especially in the borough of Brooklyn. I enjoy hunting down spaces and seeing how they can work with various tenants. Real estate is a unique field and there is something new to learn and someone new to meet every day.
What do you like most about your job?
The constant action, while helping people, makes the real estate profession rewarding. I also happen to work with a great group of professionals. The education I get from those around me is like none other.
What can our political leaders do to increase equality in the workplace?
I am not big on politics, but they can continue to source candidates from a variety of backgrounds and neighborhoods to help make long-term improvements. People should enjoy their workplaces as it sets one up for success.
Who or what inspires you?
My brother Avi Akiva is the person who inspires me the most. We both started at the young age of 18. And, while I am currently only 19, Avi has shown me that even if you are the youngest person in the room, you can still be the hardest working person doing the most.
If your life were made into a movie, what actor would you want to portray you?
Al Pacino. He's a legend and my favorite actor!
What social media platform do you use the most professionally?
LinkedIn. Hands down, the best professional social site. I have been able to connect with so many talented people, many who have become clients.