Name: Shallini Mehra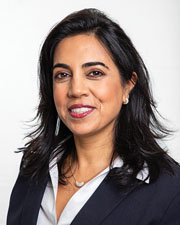 Title: Managing Director
Company Name: Meridian Investment Sales
Association/Organization Affiliations (REAL ESTATE ONLY): YMWREA, REBNY, CHIP, She Builds Initiative with Rebuilding NYC
What books, blogs, podcasts, resources or influencers would you recommend to women?
No matter how well things are going for you, we all need coaches, cheerleaders, and sources of inspiration. I often start my day with something motivational. I may even listen to the same podcast multiple times, each time picking up different valuable tidbits. Most of the information we all know, but it's a good reminder and helps me start my day on the right foot. In particular, I like Evan Carmichael on YouTube, Scott Smith's "Motivation to Move" and Tony Robbins. The life lessons that I am constantly reminded of include putting in the extra 10%, practicing gratitude, and believing in myself.
How do you hold your own in a negotiation?
Deal knowledge, transparency, and being helpful wherever possible are key success factors for me in any negotiation. I like to be involved with all phases of a deal, especially the due diligence period. In today's highly regulated environment, transparency of information is important to maintain buyers' confidence and deal momentum. I do my best to explain all deal issues upfront to eliminate any re-trading. In addition, because communication often transpires via multiple formats (phone, text, email, etc.) I like to recap via email to all parties involved to ensure that everyone is on the same page. It is also important to understand the players' issues that may require other creative solutions, including joint ventures, sale leasebacks, and ground leases.