Name: Mitchel Flaherty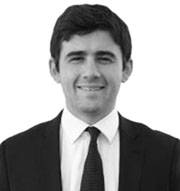 Title: Director, Investment Sales
Company Name: B6 Real Estate Advisors
Address: 1040 6th Avenue, 8th Floor, New York, NY
Who or what do you attribute to your success?
My father has had a positive impact on my life exposing me to how rewarding and exciting the real estate industry can be. I would watch him identify opportunities in the market and analyze every comparable, which taught me about due diligence and knowing the market you are operating in.
What advice can you offer to someone who is just getting started in your industry?
Work hard but work smart. It is a highly competitive market and one needs to know how to differentiate themselves. You need to have a plan, be disciplined, and execute.
How have your life experiences impacted who you are professionally?
Traveling to different countries and interacting with diverse groups of people. Also, getting married has given me even bigger goals for the future.
What was your favorite thing to do when you were a kid?
I played for a professional soccer club until I was 16. The club was a two-hour train ride from home, and I would travel there five times a week.