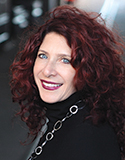 Tami Hausman, Hausman LLC
Name: Tami Hausman, PhD
Title: President
Company Name: Hausman LLC
Email: [email protected]
Years in real estate: 25
How did you get your start in real estate?
Marketing
What real estate associations or organizations are you a member of?
Board member: Urban Design Forum, DOCOMOMO New York/Tri-State
Member: AIA NY Chapter, Public Relations Society of America, Society for Marketing Professional Services
Telephone: 646.742.1700
Year Founded: 2008
URL: hausmanllc.com
Twitter @HausmanLLC
When you launched your business what were some challenges that you experienced?
My biggest fear was that I would have a hard time getting clients. Luckily, even from the very beginning, that has never been a challenge! We're blessed with great clients. For me, the biggest challenge is finding great people who share the same vision for the company and want to do exceptional work for clients. It takes time to attract and nurture good talent.
How did you overcome them?
It's all about time. I have an amazing team right now. As you build your company, you get more clear about what your goals are. This not only helps you to attract better and bigger clients, but it helps you to find the right team members.
What was a significant milestone or achievement for your company?
Nine months after I started the company, we were plunged into a worldwide recession (good timing!). So I was thrilled that our company made it through the first year. Beyond that, I have been delighted that we have experienced significant growth every year since.
What advice would you give to a woman who is planning to launch her own business?
Do it! And make sure you have good advisors around you. You don't necessarily need to have a formal group of advisors or board members. You just need smart and experienced people who can guide you and give you the truth – the good, the bad and the ugly. Also, you want to make sure to celebrate the good times but also be unafraid to face problems and address them honestly and quickly when they occur.
How do you empower other women in your workplace?
Although everyone is different, and I treat each person as an individual, I don't distinguish between men and women in our office. It's important to empower everyone who works for you. You need to provide enough guidance and support so that people can do a good job, but give free rein so people can make their own decisions and have space to grow. It's a delicate balance. Your people are your best resources – treat them well and they will treat you well!