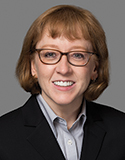 Karen Scanna, Stroock & Stroock & Lavan LLP
Name: Karen Scanna
Title: Partner
Email: [email protected]
Years in real estate: 20+
Company Name: Stroock & Stroock & Lavan LLP
Year Founded: 1876
URL: www.stroock.com
Telephone: 212-806-5400
How did you get your start in real estate?
Having been a paralegal in the litigation department of a major New York law firm for two years before attending law school, I had a sense that transactional work may be more fitting for me and pursued that path after law school. I chose real estate over other more corporate transactional practices because of the tangible nature of the asset and the ability to see my work product as I walk the streets of New York City.
What real estate associations or organizations are you a member of?
Urban Land Institute, WX, Inc. – New York Women Executives in Real Estate, Real Estate Board of New York and Chicago Title Insurance Company Advisory Board.
What recent project or transaction are you most proud of?
I represented the purchaser of the Riverton Sq. residential complex, a thriving 1,229-unit Harlem community in seven buildings stretching from the FDR Drive to Fifth Ave. between 135th and 138th Sts. Built in the 1940s, the complex has been home to many notable Harlem residents. As part of the transaction, our client entered into a regulatory agreement with The city of New York requiring our client to keep 975 residential units at the property affordable for 30 years Our client also negotiated an agreement with the Riverton Tenants Association to establish programs at the property to enrich the lives of the residents, including senior programs, an after-school study center, and renovations to the playground, basketball court, landscaping and community gardens. This deal is particularly significant given the housing shortage in New York City, and it brings me great satisfaction knowing that I played a part in attempting to alleviate this crisis.
What have been some of the benefits of being a mentor or having a mentor?
Being a young lawyer in a large NYC law firm can be quite intimidating. When I arrived at Stroock in 1996, I was fortunate to work with a partner who guided me through the "process" during my entire associate career. I now mentor a number of young associates in Stroock's real estate department, and it is quite fulfilling to watch them mature and grow with the knowledge that I have played a role in their professional development.
What time management strategies do you find to be the most effective for you?
I have learned over the years that my productivity decreases significantly starting at about 7:00 or 8:00 at night. So when I reach that point, I create a "to do" list for the next day, go home, decompress and get some rest, and wake up early the next morning to get a jump on the day ahead.