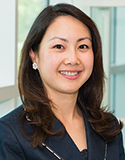 Cathy Louie, Blumenfeld Development Group, Ltd.
Name: Cathy Louie
Title: Controller/CFO
Company Name: Blumenfeld Development Group, Ltd.
Email: [email protected] 
Years in real estate: 19
Telephone: 516-624-1905
How did you get your start in real estate?
Worked at Arthur Andersen LLP as an auditor and was assigned to real estate clients.
What real estate associations or organizations are you a member of?
AICPA
Who or what has been the strongest influence on your career and why?
My father. He, along with our entire family, left Saigon in the mid-70's. He came to the U.S. knowing no english and having no money. He went through 10 years of night-college all while working various full-day jobs and cared for his young family and is now a successful accountant.
What is the best advice you have received and who was it from?
Ed Constantino, Arthur Andersen partner told me when I was an intern that success is 80% "can do" attitude and 20% skills. As long as people had the ambition, will and desire to see something to success, the rest can be learned along the way.