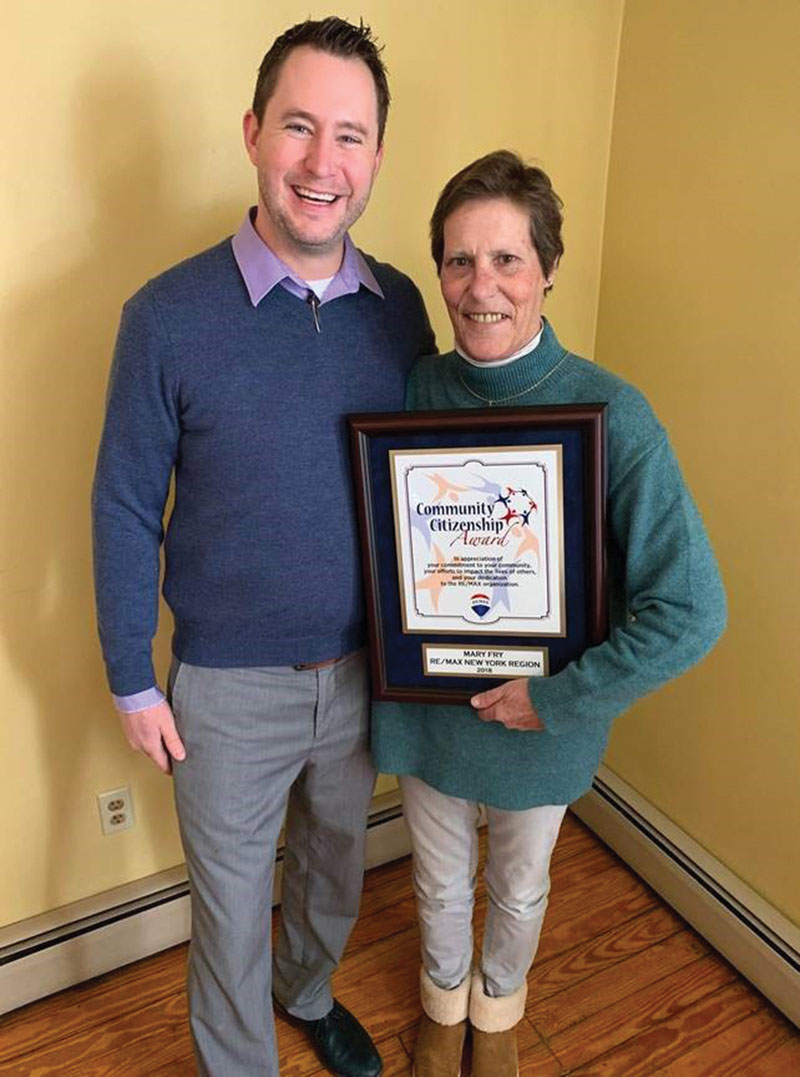 Plattsburgh, NY Mary Fry, a RE/MAX North Country associate real estate broker and a member of the Clinton County Board of Realtors, has been honored with two awards: The New York State Association of Realtors (NYSAR) 2018 Community Service Award and the RE/MAX – 2018 New York Region Community Service Award.
In 2015, Fry was diagnosed with lung cancer and was given 18 months to live. She was inspired when she heard the hospital was instrumental in arranging for a terminally ill young man with Down Syndrome to have his special dream come true. He was thrilled when given the opportunity to throw out the first pitch at a baseball game at Yankee Stadium. The story motivated Mary to spearhead a "Wish Fund" program supported by the Clinton Board of Realtors Charity Auction. The funds raised would be used to fulfill the wishes of adults in the community diagnosed with terminal illnesses. In just a few years, over $55,000 was raised for the Wish Fund, benefiting countless families.
Over the last two decades, Ms. Fry has helped to raise over $400,000. Her charitable work recognized by the prestigious NYSAR Award actually began in 1999 when she first became active in the Clinton County Board of Realtors Charity Auction, which raised nearly $2,000 for the United Way and later funded Hospice. A client donated commercial property valued at $80,000 where Hospice built an office. She was involved with the fundraiser that yielded $40,000 that year.
In recognition of Fry's record of service in her community, Shawn Jones, RE/MAX LLC franchise development consultant, presented Fry with the RE/MAX – New York Region Community Service Award. "In her work as a real estate professional, Mary took pride and joy in helping families settle into their 'dream' homes. Her role in making it possible for a person stricken with a life-threatening illness to experience something they have wished for and dreamed of, is the reason we honor Mary Fry with this award," Jones said.
"Focusing on the Wish Fund has kept me strong. It's made dealing with my illness much easier. Besides, I'm a person who likes to give more than I get. We've granted some fun wishes. We sent a family of eight to Dollywood; they all piled into a van and they drove South. We rented a log cabin with four bedrooms and a hot tub within in walking distance to Dollywood," said Fry. "The annual fundraiser has made it possible for us to grant six to 10 adults a special wish on his or her bucket list. It's very gratifying to be a part of this program."