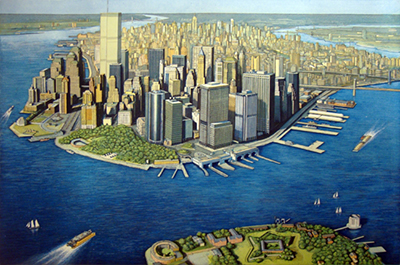 New York, NY Michael Ingbar Gallery will host a benefit exhibit for the Center for Architecture, which will receive 20% of artwork sale proceeds during the opening reception. On view from September 7-29th, the exhibition, Images of New York City – Richard Haas & Friends, features many architectural landmarks from Richard Haas as well as work by Daniel Hauben, Assunta Sera and many others.
Haas is best known in New York City for his rendering of the cast-iron façade in SoHo as well as his many architectural etchings and trompe l'oeil works. His descriptive architectural artwork has been described as making: "…people stop and think about architecture and realize that buildings are not just a backdrop; they are also an active presence in our lives," Paul Goldberger, architecture critic, Vanity Fair.
The artist's reception will be held on Friday, September 7th from 5 to 8 p.m. at the Michael Ingbar Gallery located at 568 Broadway, lower level. Haas will give a brief lecture around 6:30 p.m. Other artists will also be present.
The Center for Architecture's aim is to further public knowledge about New York City architecture and architects, foster exchange and collaboration among members of the design, development, building, scholarly, and policy sectors, and inspire new ideas about the role of design in communities by presenting contemporary and practical issues in architecture and urbanism to a general audience.