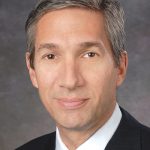 Steven Kohn, Cushman & Wakefield
Manhattan, NY Cushman & Wakefield, Inc.has served as the exclusive advisor to an affiliate of the United Federation of Teachers Local 2, American Federation of Teachers, AFL-CIO (the UFT) in arranging a $62 million loan secured by 50 Broadway. The 10-year, fixed-rate financing was provided by an affiliate of Citigroup Global Markets Inc.
50 Broadway is a 37-story, 352,000 s/f office/retail building located in Lower Manhattan, between Exchange Place and Bowling Green. The building is leased to a roster of over three dozen tenants, including the UFT and affiliated entities, which lease a total of 90,000 s/f. The UFT purchased 50 Broadway in 2002 and, at the same time, net leased the adjacent 400,000 s/f building to the north, 52 Broadway.  The UFT, which represents nearly 200,000 current and former employees of New York City public schools, maintains its headquarters within the two buildings.
The Cushman & Wakefield equity, debt and structured finance team of Steve Kohn, Mark Ehlinger and Michael Collins arranged the new financing assisted by the Cushman & Wakefield Leasing Agency team of Mark Boisi and Stephen Bellwood on behalf of the UFT.
Cushman & Wakefield is leasing and managing agent for the UFT at 50 and 52 Broadway. The firm has represented the organization, in both capacities, since 2002. Today 50 Broadway is currently 93.5 % leased and undergoing lobby renovations to meet the needs of today's tenancy.