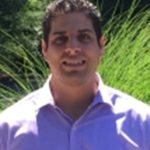 Arche Georgatos, Island Associates
Copiague, NY Arche Georgatos of Island Associates has brokered two leases totaling 1,900 s/f. The deals include the following:
• Georgatos represented the landlord and tenant, 377 Oak Street Inc. and Siempre Bella, a women's hair salon, in the lease of 900s/f at 385 Oak St. at Oak Street Plaza. Siempre Bella will be joining Lucia's, Money Gram and the Final Cut.
• Georgatos represented the tenant, VIP Luna Rentals, and landlord, JMK Spur Associates, Inc., in the lease of 1,000 s/f at 333 Spur Dr. North, Bay Shore, for a party equipment rental store and the sale of LED furniture. VIP Luna Rentals will join tenants Alert Glass, Janitorial Supplies, and All Around Tire Shop.  
Island Associates, a commercial real estate brokerage and management firm provides a full range of services for institutions, investors, developers, retailers and owners of commercial, retail and multifamily properties. They believe superior management is the cornerstone of a property's competitive stand and long term value.  Their commercial brokerage and management team offers extensive experience with the operational, marketing, tenant representation and financial expertise to increase profitability and to add value to the properties we manage.