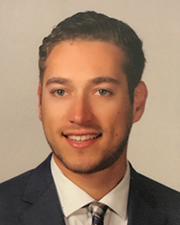 New York, NY According to HKS Capital Partners, Luke DeGrossi and Brian Barkley have joined the capital advisory firm as loan advisors in the origination department.
DeGrossi is responsible for brokering commercial transactions by securing capital for clients through various forms of debt, equity and structured finance. Prior to joining HKS, DeGrossi worked at RPM Development Group, where he oversaw the daily financial analysis and accounting for several properties within the firm's $1 billion real estate portfolio.
"Luke comes to HKS with a strong skill set in client relations and CRE analysis," said HKS managing director Charles Yellen. "We are fortunate to have him join us as a member of HKS."
DeGrossi has a bachelor of science degree in Finance and International Business from Villanova University. In addition, he studied Mathematics at Columbia University and he minored in Spanish at La Universidad de Cadiz.
DeGrossi is also fluentin Italian, Spanish and French.
Barkley is responsible for commercial loan origination. Barkley started at HKS as a summer intern in 2015 and 2016 and has underwritten loan transactions, assisted in developing pro-forma analysis for underwriting construction loans and served on the construction team for SKF Ventures. While still in college, he originated a $7 million deal after only one summer of interning at HKS.
"Brian broke a record by originating a client loan request within his first two full time working weeks at HKS," said HKS co-founder Jerry Swartz. "He has a unique ability to understand the nuances of CRE financing and applying the right formula for any given transaction. His financial sophistication is years beyond his age and management at HKS has great expectations for this young man."
In 2017, Barkley received a bachelor of science degree in Management from Indiana University, where he was a member of the University's Real Estate Club.
HKS Capital Partners was founded in 2011 by Jerry Swartz, Ayush Kapahi and Jonathan Harrington, each with years experience in managing high profile transactions through systematic underwriting techniques and up-to-date transactional technology.