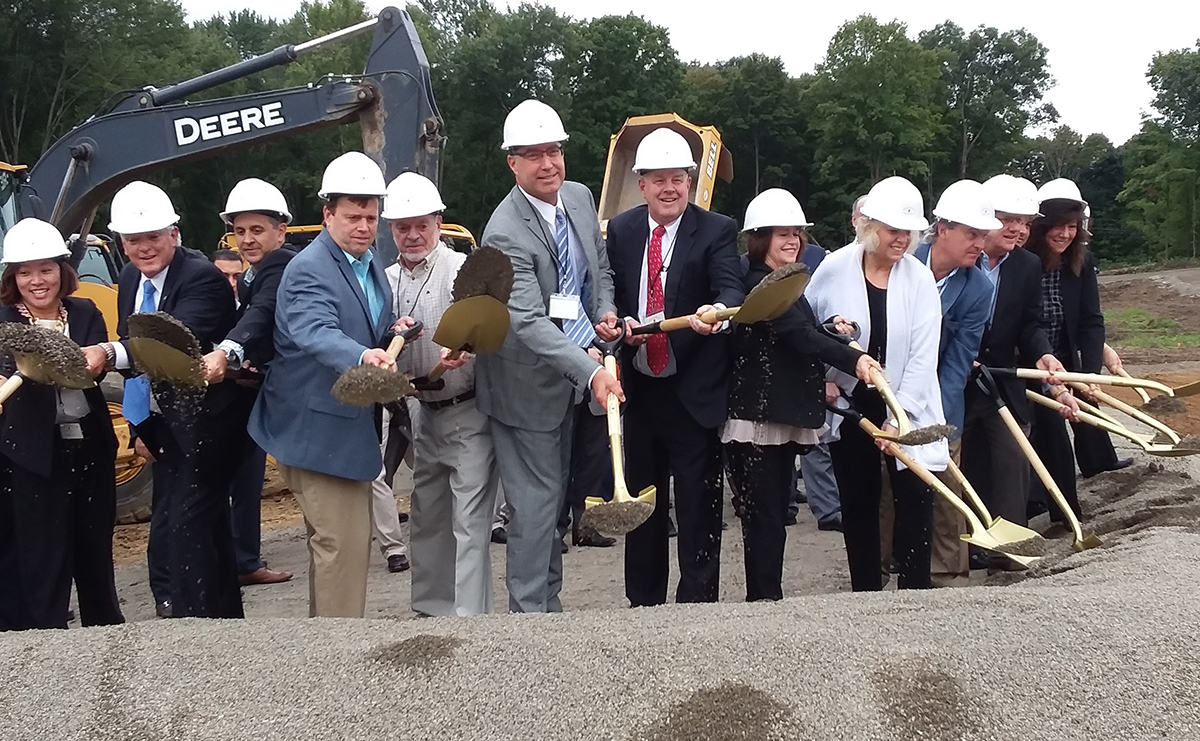 Hyde Park, NY Bellefield Development Partners, an affiliate of T-Rex Capital Group, LLC, along with representatives from the town, Dutchess County and NYS, broke ground on the Inn at Bellefield and phase 1 of the construction of Bellefield at Historic Hyde Park.
Bellefield at Historic Hyde Park will be a $500 million hospitality, culinary and sustainable agrihood destination. With two hotels, culinary shops, farm-to-table restaurants, an event barn and educational center, Bellefield at Historic Hyde Park will complement existing Dutchess County tourism destinations while providing much-needed quality housing. The development will be located at the gateway to Historic Hyde Park, on Rte. 9 across from The Culinary Institute of America. The hotel architect is Richard Hurdle AIA NCARB, principal, ZHA Architects PC. The contractor is Lawrence Knapp, a client services manager at PC Construction Company, and the builder is William Hoy, VP design, construction and facilities management at Shaner Hotel Group.
Developed in partnership with Shaner Hotel Group – one of the hospitality industry's leading owner-operators of full- and select-service hotels – and in collaboration with Marriott International, The Inn at Bellefield will be a 133-room soft-branded Residence Inn. It is the first of two planned upscale all-suites lifestyle hotels on the property.
In addition to the hotel, Phase 1 of the construction of Bellefield at Historic Hyde Park includes construction of the property's infrastructure – roads, sewer, water treatment and electric – to establish development of future phases. The combined investment of the hotel and property infrastructure for Phase 1 will total $60 million.
"Without the incredible coordination and effort from the Town of Hyde Park, Dutchess County, Dutchess Tourism and NYS, this project would not have been possible," Tom Mulroy, CEO, T-Rex Capital. "I would also like to thank our team that has worked on this project for many years. We could never have done it without you too. Bellefield at Historic Hyde Park will bring jobs, investments and tourists to Hyde Park."
Bellefield at Historic Hyde Park is uniquely positioned to embrace the Hudson Valley's food and beverage traditions by providing an immersive and eco-friendly environment to appeal to one's senses like no other place before it.
It will also become a residential address for those with an appetite for a simpler, more connected life. A 90-minute drive from Manhattan, Bellefield at Historic Hyde Park will be a 340-acre community designed with a working farm as its heart and soul – with 58% of the site's acres remaining wooded and undeveloped and 48 acres devoted to agriculture.
"This is a one-of-a-kind development in a strategic location that will exponentially develop the food and beverage culture in the Hudson Valley while creating a natural partnership of businesses, retailers, farmers and homeowners," Mulroy said. "And this will be done with sensitivity to the surrounding community and care given to the beauty of the landscape here in Hyde Park."
The hotel will help meet the demand for lodging in Dutchess County.
"I would like to take a moment to thank Tom Mulroy, Bellefield Development Partners and T-Rex Capital Group for allowing Shaner Hotel Group the honor to be a partner in this outstanding development project," said Lance Shaner, chairman and CEO of Shaner Hotel Group.
"They have done an outstanding job assembling the pieces to create what will be a very successful development and address the need for lodging in this part of Dutchess County."
Dutchess County is home to many world-class tourism destinations, including the FDR Presidential Library and Museum, The Walkway Over the Hudson, The Vanderbilt Mansion, Marist College, and The Culinary Institute of America. There are nearly 5 million visitors to Dutchess County each year.
The development is projected to create more than 550 construction jobs and 369 full-time, permanent on-site jobs.
Equally positive is the projected generation of tax dollars. Over the next 10 years, Phase 1 of the development is projected to generate more than $118 million in state, county and town tax revenue.
The 10-year combined operation and visitor spending economic impact from Phase 1 will exceed $634 million.
Howard Zemsky, president and CEO, Empire State Development and commissioner of Economic Development, "The Bellefield at Historic Hyde Park project is an exciting opportunity to further grow tourism in Dutchess County and the Mid-Hudson Region. As a complement to the booming food and beverage sector, Bellefield will be a catalyst for residents, tourists and students alike to participate in the growth of the regional economy through culinary, hospitality and agricultural activities."
New York state senator Sue Serino, 41st District, "We are so excited to see this incredible project become a reality. Bellefield at Historic Hyde Park is sure to be a world-class culinary destination for residents and tourists alike that will help to highlight some of the best our community has to offer. We look forward to seeing all the ways that this project will continue to evolve for years to come and all the ways that it will continue to add to fabric of our local community. Congratulations to all involved on today's great groundbreaking!"
NYS assemblymember Didi Barrett, Assembly District 106, "I am delighted to see the long awaited Bellefield project become a reality for the Town of Hyde Park, T-Rex Capital and the greater community. A new boutique hotel that embraces the Hudson Valley's historic agricultural heritage while offering 21st century hospitality is sure to be a winning combination in our region."
Sarah Lee, CEO, Think Dutchess and executive director of the Dutchess County Industrial Development Agency: "Bellefield at Historic Hyde Park is an important addition to our county's culinary and tourism destinations. The multi-faceted project will bring investors and businesses, grow jobs for our residents and attract visitors who will spend money in our county, which helps stabilize the tax base."
Aileen Rohr, supervisor, town of Hyde Park, "The Town of Hyde Park is pleased to welcome the Inn at Bellefield to our community. With so many premier tourism destinations located in Hyde Park, the addition of attractive well-located lodging will allow visitors to stay where they play. We look forward to the advancement of the local food movement as part of our local economy by the opening of the Inn and are eager to continue to see this potential developed through future investment."
Mike Oates, president and CEO, Hudson Valley Economic Development Corp., "We are looking forward to seeing this extraordinary project as it grows and takes shape. Bellefield at Historic Hyde Park will be an important part of the continued growth of the Hudson Valley's food and beverage businesses, farms and attractions."
Mary Kay Vrba, president and CEO, Dutchess Tourism, "Dutchess Tourism is excited to break ground on Bellefield at Hyde Park and welcome this project into the Dutchess County family of wonderful tourism attractions."
Mike Dupree, chairman, Hyde Park Planning Board, "Bellefield Development Partners proposed a project to our town that we instantly believed would be a great success, benefiting the hotel operator as well as Hyde Park and the county. We welcome another enterprise that promises to partner well with our community."