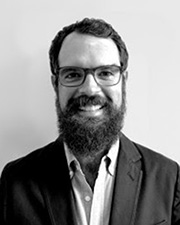 Brooklyn, NY ARCHITECTUREFIRM has welcomed Adam Ruffin as partner. He joins the firm after a 15-year career at Thomas Phifer and Partners (TPP), one of the longest tenured members of that office's history. As a critical leader at TPP, he oversaw design and management work on some of the firm's most important cultural and residential projects, including the Corning Museum of Glass in Corning; the North Carolina Museum of Art in Raleigh, N.C.; the Fishers Island Residence on Fishers Island; and the Cine Colombia Headquarters in Bogota, Colombia.
Many of the projects he was involved in garnered National AIA Honor and Merit Awards and he played a key role in the development of the office's international recognition.
Adam, Katie, and Danny have been collaborators since they were classmates at the University of Virginia where they worked on the design and construction of the UVa Solar Decathlon entry for 2002 along with many other academic and competition projects. They have since maintained a shared dedication to simplicity in modern architecture and an adherence to fundamental ideas about light, place, and landscape. ARCHITECTUREFIRM makes this announcement at a time of great energy and enthusiasm in the office as we continue work on the Quirk Hotel in Charlottesville, Virginia in addition to commercial and residential work in New York City; Montauk, New York; Jackson Hole, Wyoming; Fredericksburg and Richmond, Virginia and other locations on the east coast.