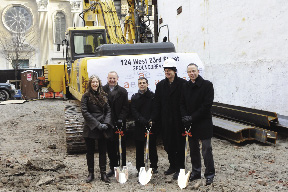 Shown (from left) are: Barbara van Beuren, Anbau Enterprises Inc.; Stephen Glascock, Anbau Enterprises, Inc.; Todd Poisson, BKSK Architects; George Schieferdecker, BKSK Architects; and Robert Lerner, The Bank of New York Mellon.
Anbau Enterprises, Inc., a prominent New York City-based developer recognized for environmentally-sensitive and architecturally-significant projects, broke ground on a 16-story condominium building at 124 West 23rd St. This will be the first new residential development in Manhattan to commence construction in 2011. The announcement was made by Stephen Glascock and Barbara van Beuren, Anbau's founders.
Designed by BKSK Architects, 124 West 23rd St. will contain 34 residences. Anbau is creating a full complement of apartments, including studio, one-bedroom, two-bedroom and penthouse condominiums, each with carefully crafted floorplans for today's living. Located between 6th and 7th Aves., the property offers the best that the vibrant Madison Square Park and Chelsea neighborhoods have to offer.
The property is scheduled for completion in summer of 2012.
"We are delighted to commence construction of 124 West 23rd Street, demonstrating our confidence in the rebounding real estate conditions in New York City and the attractions of this particular location in the Madison Square Park market," Glascock said.
In addition to the residences, which will be marketed by Corcoran Group, 124 West 23rd St. will have approximately 4,000 s/f of prime, ground-floor retail space.