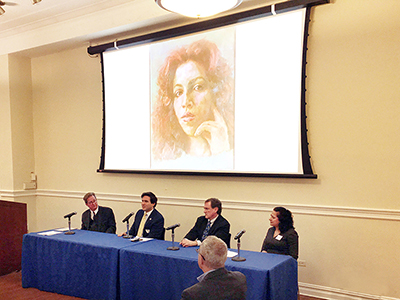 New York, NY Daniel Allen, AIA, a partner at CTA Architects, P.C. and the firm's historic preservation specialist, led the panel discussion on façade safety during a fundraising event for the Grace Gold Memorial Scholarship Fund (GGMSF), held at Barnard College's Barnard Hall.
Attending the breakfast event were 100 participants, including members of the N.Y. building community and Grace Gold's friends and supporters. Over $100,000 was raised for GGMSF, which was then matched by Barnard College and donors Roy and Diana Vagelos. The total proceeds of $200,000 will augment GGMSF's mission: Providing financial aid to Barnard College students whose field of study may lead to careers as architects, engineers, union leaders, contractors, urban planners, historic preservationists, or others in the building fields. To date, GGMSF has raised $350,000 and has awarded six scholarships.
Grace Gold's older sister, Lori Gold, began the GGMSF in 2011. Grace Gold's life was cut short in 1979, after she completed her freshman year at Barnard; she was fatally struck by a piece of dislodged masonry that fell from the eighth-floor of a Columbia University-owned building. Her death led to passage of Local Law 10, enacted in 1980, which required owners of NYC buildings over six stories to perform regular inspections – and repairs – of their buildings' façades. This gave rise in 1998 to the expanded Local Law 11 and to the even more comprehensive Façade Inspection and Safety Program (FISP).
The success of New York City's forward-looking building laws against a backdrop of aging US building stock has resulted in similar façade-inspection laws enacted in 11 other American cities. Grace Gold is further commemorated through the co-naming of Broadway, between West 115th and 116th Streets, as Grace Gold Way.
Thanks to the efforts of Lori Gold and her supporters, similar façade-inspection laws have been enacted in 11 other American cities. GGMSF initially awarded scholarships to students in the creative fields, such as journalism, which reflected Grace Gold's interests, and later expanded its focus to include students pursuing careers in building-related professions. In memory of Grace Gold, in March of 2015, New York City named the block of Broadway between West 115th and West 116th Streets the "Gold Way."
"Our scholarships are informing and educating the next generation of professionals, who will be keeping the residents of New York City, and other cities around the globe, safe while on the streets of their urban centers. This is how Grace Gold's legacy will continue to make a positive impact on the world," said Lori E. Gold.
Allen moderated the panel, titled "Local Law 11 and FISP: Designing the Future," wherein panelists discussed the state of building maintenance in the city, new technological and legislative developments in the field, and inspection laws in other municipalities across the United States. Panelists included New York City Council Member Ben Kallos and architects Sharon Lobo, AIA, president of Indus Architects PLLC, and Michael Petermann, RA, principal in the New York City office of Wiss, Janney, Elstner Associates.
During the discussion, Allen noted that Grace's tragic death set in motion a focus on maintaining the city's building stock in new ways and with new fervor. He also stated that FISP had something of a ripple effect among the city's architects, builders, and historic preservationists, even reviving the terracotta and ornamental sheet metal industries. Commenting on the scholarship's goal of supporting students in building-related professions, Lobo discussed opportunities for female professionals in architecture-related careers.
In addition to New York City, local façade ordinances are currently in force in Boston, Chicago, Cincinnati, Cleveland, Columbus, Detroit, Milwaukee, Philadelphia, Pittsburgh, San Francisco, and St. Louis.