SBLM team members with their CANstruction Long Island submission.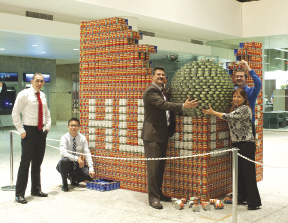 SBLM team members with their CANstruction Long Island submission.
SBLM Architects joined CANstruction Long Island in the fight against hunger. The design firm's submission entitled "Demolish Hunger and Restore Hope!" won the Honorable Mention award and used 3,581 cans.
Team Captain Nick Gargiso and members Liana Cernasov, Michael Deng, Walter Hyde, and Michael LeFande created a nine-ft. tall cornerstone wall with "hunger" on one side being demolished by a wrecking ball and "hope" on the other side with a rising sun and stream complete with cans of tuna swimming under a bridge. SBLM's team was supported by donations from corporate sponsors Henderson Engineers Inc., Hart, Gaugler & Associates, Inc. Glickman Engineering Associates, PLLC, Harold Rosen Associates, DNV Associates, Light as a Feather Inc. and Huntington Station Food Plaza.
This year's event is exhibited in RXR Plaza through November 7th. After the exhibit all cans and food are donated to Long Island Cares, Inc., The Harry Chapin Food Bank. Over 30,000 cans were used in this year's designs.
SBLM Architects is a 100-person, client responsive, innovative, architectural firm with expertise in a wide-range of building types, including: Mixed-use & Multi-family Residential, Retail, Office Interiors, Education, and Healthcare and Wellness. Headquartered in New York City, SBLM has additional offices in Long Island, New York, Miami, Florida, Dallas, Texas and Dublin, Ireland. For more information, please visit www.sblm.com.