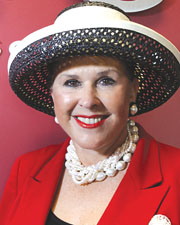 Riverhead, NY Marie Zere, president and CEO, Zere Real Estate Services closed on 109 acres of agricultural land off Rte. 25, which is the first phase of a 36MW solar project.
This site is part of a facility located on the west side of Edwards Ave. in Calverton, near another 45-acre, 6.5 MW solar farm developed by sPower. Nearby is an existing substation, also sold by Zere.
This is the first phase of a 290-acre project which is an assemblage of seven contiguous parcels. The deal originated in 2012 when LIPA had a Request for Proposal as part of governor Cuomo's NY-Sun Solar Initiative.
The project will safely generate 72,345 MW per year of clean, renewable electricity to power over 8,500 households and offset 73,000 tons of CO2 emissions. The solar panels will be ground-mounted on a racking system that allows the solar panels to follow the sun's rays.
Zere exclusively represented the buyer, sPower Inc., and the seller (not disclosed). The sale price was $14 million.
"There is no environmental impact and this solar project will be giving generous tax revenues to the town of Riverhead without impacting the school district. It's a win win for both the town of Riverhead and for sPower. The land will no longer be sprayed with chemicals and pesticides to protect the groundwater while Long Island homeowners get inexpensive clean energy. It is a great use for the property," said Zere.
This new solar development is the largest solar portfolio in New York State. The deal is considered significant by LIPA and New York State with the site plan approval being finalized. The town is looking forward to receiving major tax revenues without impacting the Riverhead School District.
"Calverton was the only place on Long Island that had the large parcel availability, the right zoning and a municipality, the Town of Riverhead, that was business -friendly and pro-economic development. The toughest part of the deal was getting environmental approvals, which took five years to complete," said Zere.
NY-Sun is a major component of governor Andrew Cuomo's Reforming the Energy Vision (REV), which aims to create a cleaner, more resilient, and affordable energy system for all New Yorkers.

Thanks for Reading!
You've read 3 of your 3 guest articles
Register and get instant unlimited access to all of our articles online.

Sign up is quick, easy, & FREE.
Subscription Options
Tags: