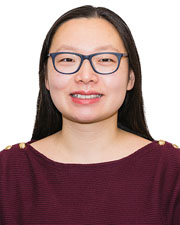 Name: Yun Luo, P.E.
Title: Associate
Company Name: LERA Consulting Structural Engineers
What was your most notable project, deal, or transaction in 2020?
A campus transformation project for a major hospital in Long Island. This will fulfill a primary need for the community, and is being designed with the utmost consideration of the existing community landscape, hospital operations, and future flexibility.
What are your predictions for commercial real estate in 2021?
2021 will be a pivotal year for commercial real estate. We will see a slow recovery; but more importantly, I believe we will see a renewed focus on wellness, cultural capital, and social justice. The public is looking for us as an industry to come up with innovative strategies to address them.
What was the most challenging part of working during the pandemic?
Working from home with a very young child in the house. My son was only 10 months old when all daycares were shut down.
What aspects of working from home did you enjoy most?
No commutes meant relaxed morning and evening routines with quality family time. Also, opportunities to explore new technologies to facilitate working from home.
What was your greatest professional accomplishment in 2020?
Doing my job with the same level of dedication while maintaining a calm home environment for my family. This is not an easy year, and just making it is enough to celebrate.