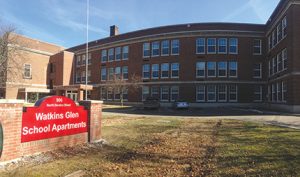 Watkins Glen School Senior Apartments
Watkins Glen, NY According to Sustainable Comfort, Inc. (SCI), the United States Green Building Council (USGBC) has awarded the Leadership in Energy and Environmental Design (LEED) for Homes Silver Certification to the Watkins Glen School Senior Apartments.  The project was co-developed by SEPP, Inc. and Two Plus Four Construction, who was also the builder. SCI acted as the green building verification consultant for the project, and the architect was BCK-IBI Group.
Formerly the Watkins Glen Middle School, the 51 converted units are available to residents 55 and older with incomes up to 80% of the average median income. The 88,549 s/f project still has elements of the school in place, and the old gymnasium and auditorium are now a civic center for the community to hold events.
Several factors that supported the LEED for Homes Silver Certification include reuse of an existing brick building, airtight construction, efficient heating and hot water systems, proximity to local services, and green construction materials. A healthy indoor environment, pollution reduction and lower utility and maintenance costs are also features of this LEED certification. This efficient affordable housing is expected to reduce water and energy consumption by 20% to 30% over typical code compliant construction, while reusing a historic component of the town.
 The $12.5 million Watkins Glen School project received a $3.8 million grant from NY gov. Andrew Cuomo as part of a $95 million program for affordable housing projects. The project also received $900,000 as part of the 2013 Regional Council Consolidation Funding from the Southern Tier Regional Economic Development Council. SCI helped the project receive $128,500 in incentive funding from the New York State Energy Research and Development Authority (NYSERDA) by pursuing the Energy $mart Homes designation.
"I want to congratulate the project team on LEED for Homes Silver certification. This is quite the accomplishment for a historic renovation and demonstrates a commitment tosustainable building and practices," remarked Albert LaValley, president of Sustainable Comfort, Inc.
Sustainable Comfort, Inc. is a Worcester, Massachusetts based green building and energy efficiency consulting firm with expertise in multifamily housing. SCI specializes in LEED for Homes, ENERGY Star Homes, Enterprise Green Communities, Passive House, HERS Rating, State Incentive Programs, and Code Compliance. The firm is also involved with the property management and development of multifamily buildings.