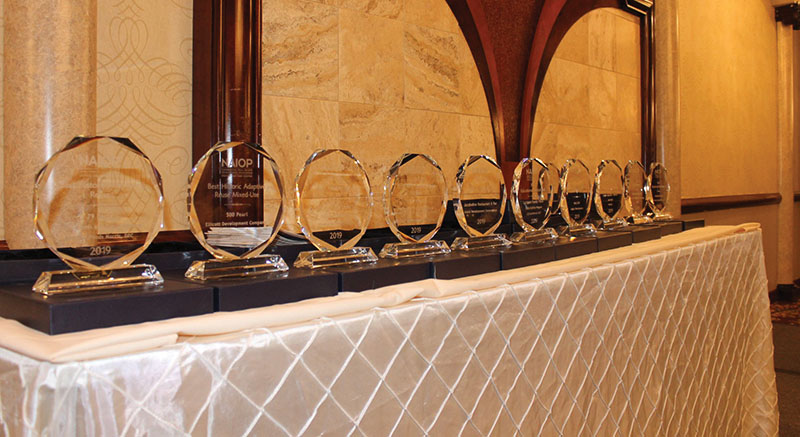 Depew, NY The Upstate New York NAIOP Chapter held its Annual Awards Dinner on January 23th at Salvatore's Italian Garden. 200 professionals attended the event, which celebrated some of the best projects in the region by its members including:
79 Perry, Best Historic Adaptive Reuse. Developer Pegular Sports and Entertainment; architect Camina Wood Morris
500 Pearl, Best Historic Adaptive Mixed-use: Developer Ellicott Development; architect, Kideney Architects, and Construction Managment, LeChase Construction Services
The Clinic at UBNS, Best Healthcare: Developer Regent Co.; architect, Silvestri Architects
Henrietta Public Libarary, Best Educational/Insitutional. Developed by town of Henrietta; architect Passero Associates; construction services, Christa Construction
Visting Nurses Association, Best New Construction Office: Developed, designed and construction by Uniland
Jazzboline, Best Hospitality; Developed, designed and constructed by Iskalo
Lockport Family YMCA, Best Educational/Insitutional: Developer, YMCA Buffalo Niagara, architect, CJS Architects, construction management, LeChase Construction Services
Axis 360, Best Community Development: Developed by Legacy Development
Dash's Market, Best Retail: Developer, Joe Dash, architect, Wendel, construction services, Javen Construction
Magic Spell Studios, Best Community Development: Developer, Rochester Institute of Technology; architect, SWBR; construction services, Welliver
IDEX, Best Industrial: Developed, design and constructed by LeFrois Builders and Developers
Upstate NAIOP thanks their sponsors, Carmina Wood Morris, DPC, LaBella Associates, Ellicott Development, Sinatra & Company Real Estate, Ciminelli Real Estate Corporation, Uniland Development Company, M&T Bank, Wendel, Hodgson Russ LLP, and LESTER APPRAISAL.