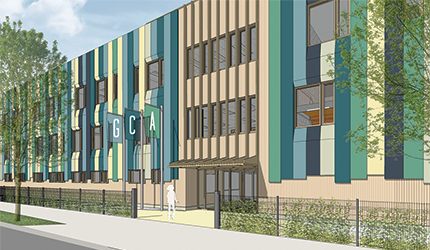 South Bronx, NY Grand Concourse Academy (GCA) Charter School, an independent local education agency, started construction on a new school that will serve 800 students in a three-story, 50,000 s/f building. In honor of the milestone, the school held a ceremonial groundbreaking that was attended by students, parents, school leaders, and representatives from the Turner-Agassi Charter School Facilities Fund.
Designed by Brooklyn-based award-winning architecture firm Lubrano Ciavarra, the new $30.7 million campus will serve as the permanent home of GCA, which currently operates in a temporary space. The school was founded in 2004 and has demonstrated academic excellence in an underserved community with a majority low-income population. McGowan Builders will provide general contracting and construction management services for the project.
Construction of the new campus is made possible through a partnership between GCA and the Turner-Agassi Charter School Facilities Fund, a mission-driven investment fund that is developing the building for the school. Unique in the U.S., Turner-Agassi accelerates the growth of high-performing charter schools throughout the nation by helping school operators overcome their biggest obstacle: Securing long-term, high-quality facilities.
Located in the Soundview neighborhood, GCA will serve 769 students in grades K-8 at occupancy. The three-story building will include 34 classrooms, a science room, an art room, a technology room, a kitchen, and a multi-purpose room totaling more than 3,800 s/f with solar panels on the roof. The campus will also feature playground space for upper and lower grades, a basketball court, an outdoor amphitheater, gardening space, and a running track that wraps around the facility.
"Construction on our state-of-the-art facility is now underway and we couldn't be more excited to move into our permanent home," said Arlene Hall, chairperson of the Grand Concourse Academy board. "Our partnership with Turner-Agassi is enabling us to have certainty about our location and also access to the high-quality facility that our students deserve."
Turner-Agassi provides resources, development experience and a passion for educational excellence to help top school operators focus on their main priority: helping students succeed. The Turner-Agassi Charter School Facilities Fund takes the lead in site selection, acquisition, design and construction for new school facilities, which are then leased back to school operators, who can purchase their schools once they reach full occupancy. The fund intends to help operators obtain permanent financing using New Market Tax Credits, tax-exempt bond offerings or funding from the U.S. Treasury's Community Development Financial Institutions Fund.
"Finding a high-quality permanent campus can be nearly impossible for charter schools. We are thrilled to provide a new facility that will meet the needs of the children and educators at Grand Concourse Academy," said Bobby Turner, the fund's co-managing partner and the CEO of Turner Impact Capital. "Grand Concourse Academy has an excellent track record and we are confident an innovative new campus will help them continue and further their mission to close the achievement gap for thousands of young people in the years ahead."
A joint venture of Turner Impact Capital and Agassi Ventures, Turner-Agassi is backed by a world-class group of institutional investors who share a commitment to effecting positive societal change in urban centers across the United States. To date, 79 schools have been developed across the country, serving 41,600 students in such communities as North Philadelphia, Newark, Southwest Detroit, South Dallas, North Las Vegas, and the Bronx. The fund is positioned to develop an additional 85 schools serving another 49,000 students by 2020.
Turner Impact Capital is an acknowledged leader and innovator in the growing field of social impact investing – an investment approach that takes into account two goals: generating positive, risk-adjusted financial returns and creating purposeful, measurable, and positive social or environmental impact through those investments. Founded in 2014, the firm is on course to surpass $2.5 billion in investment potential to address challenges facing urban neighborhoods while delivering superior risk-adjusted returns for its investors.
"Grand Concourse Academy values educating children above all else, and we are proud to support their mission," said Glenn Pierce, president of education Initiatives at Turner Impact Capital. "We are focused on scaling a sustainable education solution to benefit as many students in New York, and across the nation, as possible"