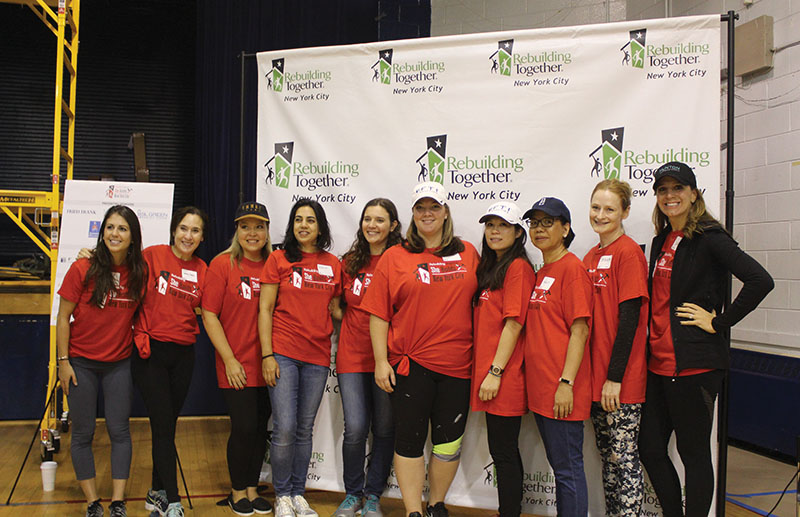 Manhattan, NY On Friday, September 28th, over 100 members of the NYC real estate industry came together for Rebuilding Together NYC's annual She Builds Day. Envisioned and spearheaded by co-chairs Laura Jackson and Laurie Grasso, along with the She Builds Women in Real Estate committee, this day of service brought volunteers together for vital renovations to the Lincoln Square Neighborhood Center, a program of Goddard Riverside. The renovations are designed to improve the public spaces to ensure the community has a safe, healthy and positive place to spend time in.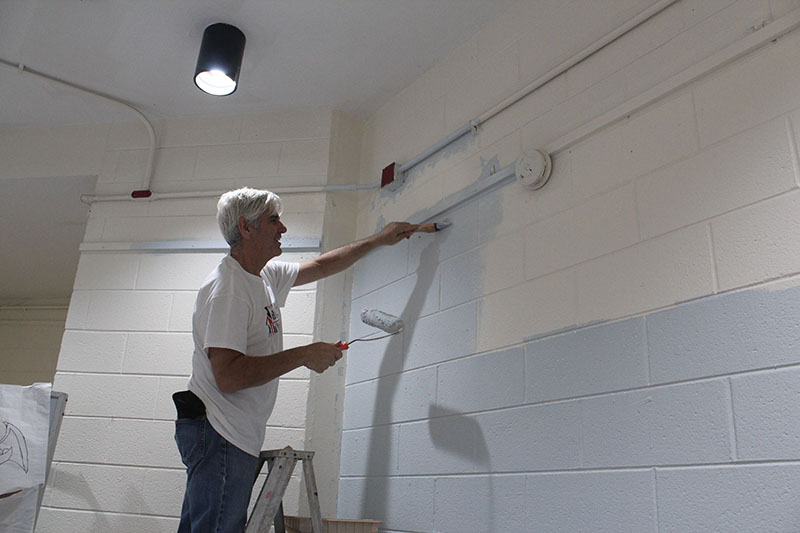 Over the course of the day, the women helped provide ADA accessibility modifications and renovations of classrooms and the lending library, while also repainting the gymnasium, outdoor playground and other areas.
This is RT NYC's third annual She Builds rebuilding event. For the first time, the committee was joined by interior designer Libby Langdon, who brought design expertise to this annual project. Presenting sponsors for She Builds 2018 were Sherwin Williams, Hunton Andrews Kurth, SL Green and Fried Frank.
Rebuilding Together NYC interim executive director Desmond said, "Clean, healthy and positive public spaces are the backbone of communities and a much-needed resource for families in crowded, expensive cities like New York. We are thrilled to part of this exciting project that brings together women in real estate to share their knowledge and expertise to better our communities."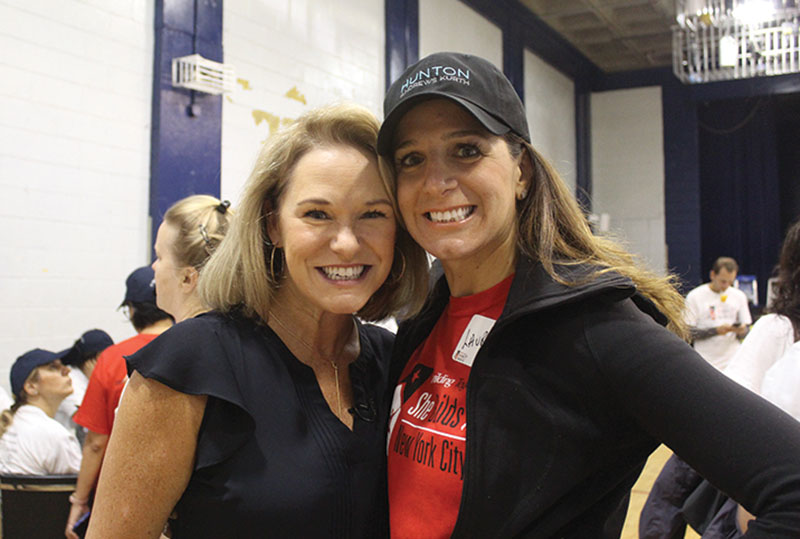 Grasso, co-chair of the She Builds Planning Committee and partner at the law firm Hunton Andrews Kurth said, "The She Builds Women's Committee is proud to have completed its 3rd transformative community event. We had over 100 real estate players taking a "break" from work to concentrate on doing important renovation and repair work at the Lincoln Square Community Center. The Committee will be pushing forward policy initiatives, looking to the real estate industry to focus more on our integrity and gender equality. Together with Rebuilding Together NYC's Workforce Training Program, we are hopeful that we can work with our friends in the industry to find life-changing jobs for their graduates - with particular emphasis on their women graduates."
Interior designer Libby Langdon said, "I was honored to lead the design makeover of the Lincoln Square Neighborhood Center. As an interior designer, it's such a privilege to offer my insights on how to revamp, refresh, and rejuvenate a place that so many people in this NYC community get to use and enjoy. As a local to the neighborhood myself just 8 blocks away, I've loved the opportunity to dive in, roll my sleeves up, and help make a difference in the way people feel and connect with the center on a daily basis."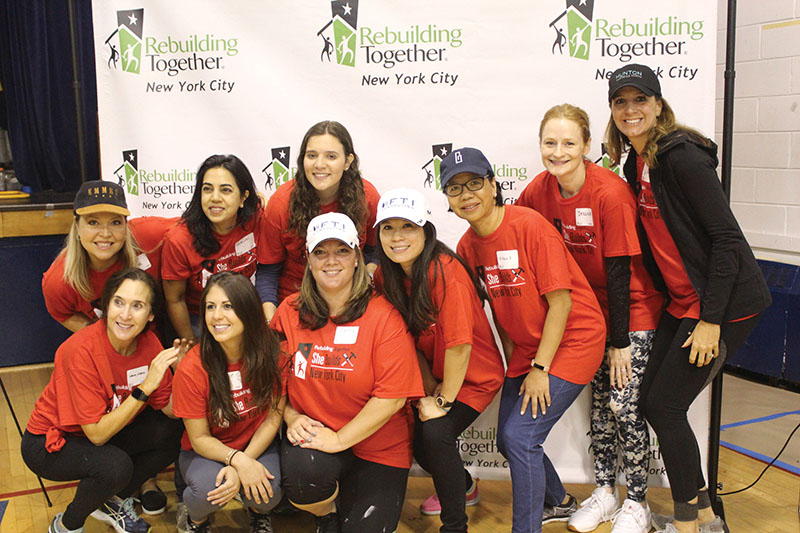 Goddard Riverside at Lincoln Square Neighborhood Center delivers programs and services to the over 2,700 individuals and 1,250 families, from pre-schoolers to seniors, who live and work in the community to meet the social, educational, recreational and cultural needs of the people of the West Side.
Volunteers conducted upgrades and repairs to the Lincoln Square Community Center. Specifically, the volunteers:
Painted the gymnasium, community room, outdoor playground, classrooms and entryway
Remodeled the reception area to make it ADA accessible
Built a wall-mount desk for computer lab
Constructed bookshelves and painted the lending library
Cleaned and repainted cork boards in early education center
Landscaped around playground
Serving all five New York City boroughs, Rebuilding Together NYC is a nonprofit housing organization that rehabilitates homes and revitalizes communities to make them safe and healthy. With the assistance of volunteers, Rebuilding Together NYC provides free critical home repairs for low-income New Yorkers, primarily those who are elderly, disabled, veterans, families with small children, and survivors of natural disasters. Learn more about Rebuilding Together NYC at www.rebuildingtogethernyc.org.
The committee brings together high powered female industry leaders who are committed to promoting safe and healthy living conditions for women and families. The committee is co-chaired by Laurie Grasso, Partner at Hunton Andrews Kurth and Laura Jackson, Managing Director at FTI Consulting Inc. and Vice President of Rebuilding Together NYC. Committee members include: Lena Chin, FTI Consulting Inc.; Maggie Hui, SL Green Realty; Helen Hwang, Meridian Investment Sales; Val Kitay, Savanna Partners; Lesley Lisser, Invesco Real Estate; Rachel Loeb; Michelle Kleger, Kensington Vanguard; Shallini Mehra, Besen and Associates; Lauren Newcorn, Yagoda Real Estate; Amy Nielson, Hunton Andrews Kurth; Amanda Ryzowy, L+M Development Partners; Jessica Sherman, Douglaston Development; Amy Sole, Emmes Asset Management; and Charlotte Sturgis, Rose Associates; and Jessica Zaski, Acadia Realty Trust.
LSNC's mission is to meet the social, educational, recreational, and cultural needs of the greater Lincoln Square neighborhood. The Agency provides wraparound social services for local residents, primarily tenants of New York City Housing Authority's Amsterdam Houses. Services include early childhood education, after school programming, high school equivalency courses, english language courses, evening teen groups, and activities for seniors. The Agency serves over 1,000 residents each year at its 65th Street location, where physical upgrades have not taken place since the building was erected in 1974. LSNC's space includes an auditorium, daycare center, outdoor playground, computer lab, several classrooms, and a lending library.
Libby Langdon is an interior designer, author, product designer and makeover television personality, as well as the creative force behind New York City–based design firm Libby Interiors, Inc. She is fast becoming known for her growing collections of branded home furnishings, including lighting for Crystorama Lighting, outdoor furniture for North Cape and indoor/outdoor rugs for KAS Rugs. Langdon's interior designs and home products have been featured in leading shelter magazines, including Architectural Digest, Traditional Home, House Beautiful, Better Homes and Gardens and Hampton's Cottages and Gardens, and she is a contributing editor to House Beautiful magazine. Langdon has been a regular makeover design expert on NBC's TODAY Show, HGTV's Small Space, Big Style, The View, The Rachael Ray Show, FOX's Design Invasion and NBC's Open House. She's written a book, Libby Langdon's Small Space Solutions, and travels the country presenting informative seminars about all things design to consumers, designers and retailers.