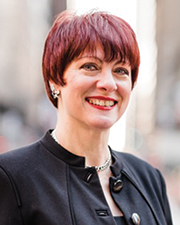 New York has a long history of adapting old buildings to new uses. Entire neighborhoods have been transformed by this process. Industrial loft buildings in SoHo and Tribeca were repurposed in the 1960s by artists looking for tall ceilings and large open spaces. Manufacturing buildings in the West Village were similarly converted to living lofts and offices.
Increasingly, adapting existing buildings has become attractive to developers and building owners. Not only can reuse projects reduce risks associated with ground-up construction, but the reuse of existing buildings is also inherently sustainable.
Know what you're working with
Having a good understanding of the existing building is important for a successful adaptation; a building's defining characteristics can help shape the reuse strategy. In our practice, we often refer to this as the building's DNA. For instance, a cast-iron loft building designed for manufacturing with large expanses of glazing has a different DNA than a load-bearing masonry building with punched window openings. Both building types are equally suited for reuse, but the results may look very different.
Studying the building will help determine how the adaptation can work within the constraints of the existing building, and when it is necessary to break from the underlying DNA to accommodate an important program element, or to create a new reading of the building. For example, a townhouse might easily accommodate offices with little reconfiguration to its interior layout, but repurposing it as a school would require elimination of interior walls and perhaps reconfiguration of the building core to create the large spaces necessary for classrooms.
How was it built?
Structural systems and exterior wall construction vary widely in New York City buildings dating from the mid to late 19th through the early 20th century. Hybrid systems including cast iron, terra cotta, the early use of steel framing, and heavy timber can all be found in these transitional structures. Each of these types of construction has its own rules for how to make modifications. Working with a team that has experience with old buildings can reduce the amount of unexpected conditions.
Incentivizing Reuse
The reasons to re-use buildings are numerous, offering owners benefits that range from the bottom line to strategic marketing opportunities. Among them:
Take advantage of robust building structure to accommodate new uses. Older buildings are often built with excess structural capacity, or were designed for heavy industry, making them ideal candidates for many types of adaptations. These buildings can often accommodate additions due to this excess structural capacity.
Capitalize on original zoning. Many pre-war buildings in New York are overbuilt for current zoning, providing more floor area than new construction. As zoning has changed throughout the city, some existing buildings actually exceed the currently allowed floor area, making reuse the best way to maximize the site's potential.
Harness the appeal of history. Owners can align themselves with the image of the old building, amplifying the purpose of the client. Older buildings are attractive to tenants and lend cachet that can be used to market the building. Upgrades to existing buildings can have a dramatic impact on the public perception of the building. Cultural institutions housed in historic buildings are directly associated with their buildings. Adapting these buildings to contemporary needs keeps institutions relevant and increases visitorship.
Perhaps the greatest arguments for reusing a building are environmental in nature, with the ROI both immediate and long-term:
Optimize embodied energy to eliminate the need for new structural systems. Repurposing existing buildings uses far less energy than new construction, specifically reusing a building's structural system and exterior envelope. Re-using these major building systems can also reduce construction schedules. Capturing the embodied energy of the existing building offsets the carbon impact of demolition and new structural systems.
Minimize environmental impacts. Older buildings often have robust exterior masonry walls, which can contribute to improved thermal performance and lead to a reduction in energy use due to reduced heating costs. This has a direct effect on building emissions, which are now regulated under Local Law 97. This law, enacted in 2019, requires that all buildings in New York City over 25,000 s/f be subject to a carbon cap starting in 2024.
Learning from the past
History has shown the value of re-using existing buildings, whether for adaptive reuse or to further the mission of the institution housed within. As cities and neighborhoods continue to evolve, so too must the buildings that define them. Architects and designers must be cognizant of the ways in which buildings are interwoven into the fabric of the neighborhoods they anchor and steward them carefully into the future. For PBDW Architects, and many of our colleagues throughout the industry, our responsibility with reuse projects is to safeguard both the provenance and the potential of buildings through rigorous research and close client collaboration.
Anne Holford-Smith is a partner at PBDW Architects, New York, N.Y.