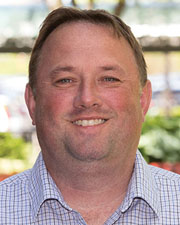 Rochester, NY According to SWBR, Tim Zigarowicz, AIA has been promoted to a principal of the firm. Zigarowicz has more than 20 years of architecture experience and has been with SWBR since 2004, most recently serving as senior associate.
Zigarowicz manages several of the firm's high-profile affordable and supportive housing clients. He currently has 400 units of independent and affordable housing in construction across the state. He served as the project manager on the recently completed Golisano Autism Center, which provides support services from multiple agencies for patients diagnosed with autism spectrum disorders in the area.
"Tim's dedicated leadership style coupled with his extensive housing expertise makes him a truly trusted advisor and partner," said principal Joe Gibbons, AIA. "He leads by example and deeply cares about the needs of our clients and team, always providing the very best for our firm."
In addition to his market rate and affordable housing expertise, Zigarowicz is committed to sustainable design practices, with a specific interest in passive house principles. He is studying to become a Certified Passive House Consultant. Zigarowicz received an Associate in Applied Science in architectural engineering technology from SUNY College of Technology at Alfred and a Bachelor Professional Studies in Architecture from University at Buffalo.