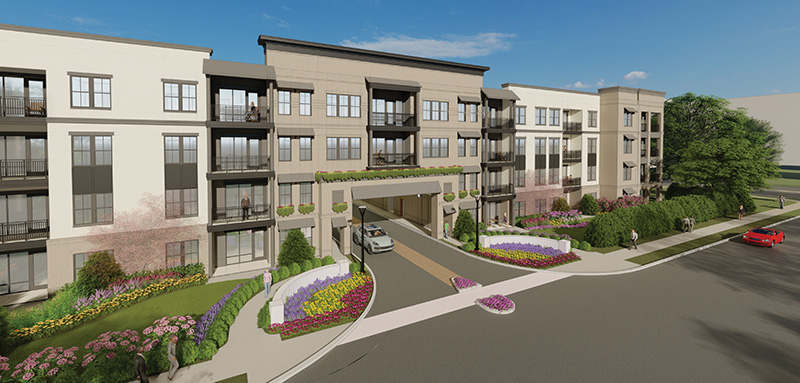 Garden City, NY Southern Land Company (SLC), a national real estate developer of mixed-use developments and master-planned communities, has broken ground on a new luxury multifamily apartment home community, located at 555 Stewart Ave. SLC will invest more than $100 million into the Village of Garden City with the project, providing one of the first new multifamily rental housing options to the community in more than 50 years. Construction of SLC's apartment home community is expected to create more than 400 jobs locally.
"The Village of Garden City is and has long been a high-barrier-to-entry market, and we are grateful and excited to be the team to bring a new, much-needed housing solution to this community," said Dustin Downey, vice president at SLC. "We approach our projects with a long-term investment and commitment to the community, which means we uphold high standards of quality, from design and construction to operations and management of the property. We look forward to creating a luxury apartment home community of which the Village of Garden City can be proud."
SLC's project is located on 4.5 acres. It will feature 150 apartment homes consisting of one-, two-, and three-bedroom options, with 17 affordable housing units. Apartment homes and resident areas will feature market-leading finishes, including wood flooring, innovative lighting design and fixtures, glass mosaic backsplashes in apartment homes, and quartz countertops in kitchens and bathrooms. The project will offer a robust collection of amenities, including an outdoor heated saltwater pool with cabanas, wine room, a fenced dog run and pet spa, fitness center, yoga/flex room, a clubroom with kitchen, an outdoor fireplace, barbecue grill, and business center.
The 183,000 s/f, four-story community was designed by SLC and Lessard Design, Inc. SLC's in-house construction division is serving as general contractor. Hauppauge-based VHB is the civil engineering firm on the project.
In addition to creating more than 400 local jobs, SLC's new apartment home community is expected to produce a significant increase in property tax revenue for the region. The net property tax revenue increase over the next 20 years from the development is projected to be more than $23 million. SLC paid the Village of Garden City $1 million for a building permit and Nassau County $465,000 for the 239-F fee.
The luxury apartment home community in the Village of Garden City is SLC's second project on Long Island, preceded by a luxury multifamily apartment home community in Hauppauge, which is under construction. SLC also has a luxury apartment home community in development in White Plains and has plans for a project in Port Washington.
"Long Island is unmistakably home to some incredible close-knit towns and villages, and we recognized a need for additional housing options that would complement these unique communities, both by architectural design and the lifestyles cultivated by our projects," said Downey. "Every detail of our project in the Village of Garden City has been thoughtfully considered and intentionally designed so that its future residents will feel well cared for and so we can be good neighbors in the community."
In addition to addressing the growing need for luxury apartment living in Nassau County, the area's reputation and lifestyle conveniences appealed to SLC.
"The Village of Garden City is known to be a neighborly, family-friendly community with diverse recreation opportunities and convenient access to public transportation, shopping, higher education, and a whole host of businesses, both large and small. We are proud to be joining such a vibrant community," said Downey.

Thanks for Reading!
You've read 1 of your 3 guest articles
Register and get instant unlimited access to all of our articles online.

Sign up is quick, easy, & FREE.
Subscription Options
Tags: