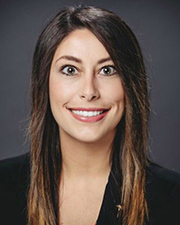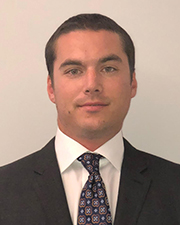 MANHATTAN, NY SCG Retail, a division of The Shopping Center Group, has expanded their tenant and landlord representation capabilities with the hiring of several new people to support the growth of its New York Metro commercial real estate services business. Casey Mancuso and John Walker are the newest members of the SCG Retail team.
Mancuso, a recent graduate of Florida State University, was president of the school's real estate program. She was a project coordinator at Madison Marquette, a D.C.-based investor and developer of mixed-use developments. She also completed the real estate advisory training program at Azor Advisory Services, based in Fort Lauderdale. At SCG Retail she'll be working on both landlord and tenant representation.
"Although I'll be focused on the landlord side, I'll represent tenants too," said Mancuso. "What struck me the most about SCG Retail was their commitment to help me develop my skills as I learn the business. I'll be working closely with Kelly Gedinsky, a senior broker focused on landlord representation. It's a tremendous opportunity to learn while getting to make a real contribution to the team."
Walker grew up across the river in Jersey, getting his start there in real estate back in 2015. He then worked for a NYC landlord, responsible for leasing nearly a half-a-million square feet of retail and office space in mid-town. He will report to SCG's award-winning senior broker, Chase Welles, assisting him with such clients as Industry City and Whole Foods.
"Working for a NYC landlord gave me good insight into how brokers can help landlords," saidWalker. "I'm very excited to focus in on retail, both the tenant and landlord sides. There's great energy here at SCG and I'm looking forward to working and learning from Chase."
"We are excited that both Casey and John have joined the team," says Jeff Pandolfo, head of leasing in the Northeast and MidAtlantic for SCG Retail and The Shopping Center Group. "We've worked hard at creating an environment for young people to learn, grow and be successful. They are paired with a mentor and receive a lot of formal and informal support."
"We opened our Manhattan office in 2011 after merging with The Shopping Center Group," said David Firestein. "We then formed the urban division, SCG Retail, recognizing that city retail had unique needs that required deep experience and expertise. The response from tenants and landlords has been incredible. We've gone from 8 to 22 people. John and Casey are great additions to our Manhattan team."
SCG has 20 offices in 16 states from NYC to California. They lease over 55 million s/f, manage 10 million s/f and have over 400 tenant relationships.