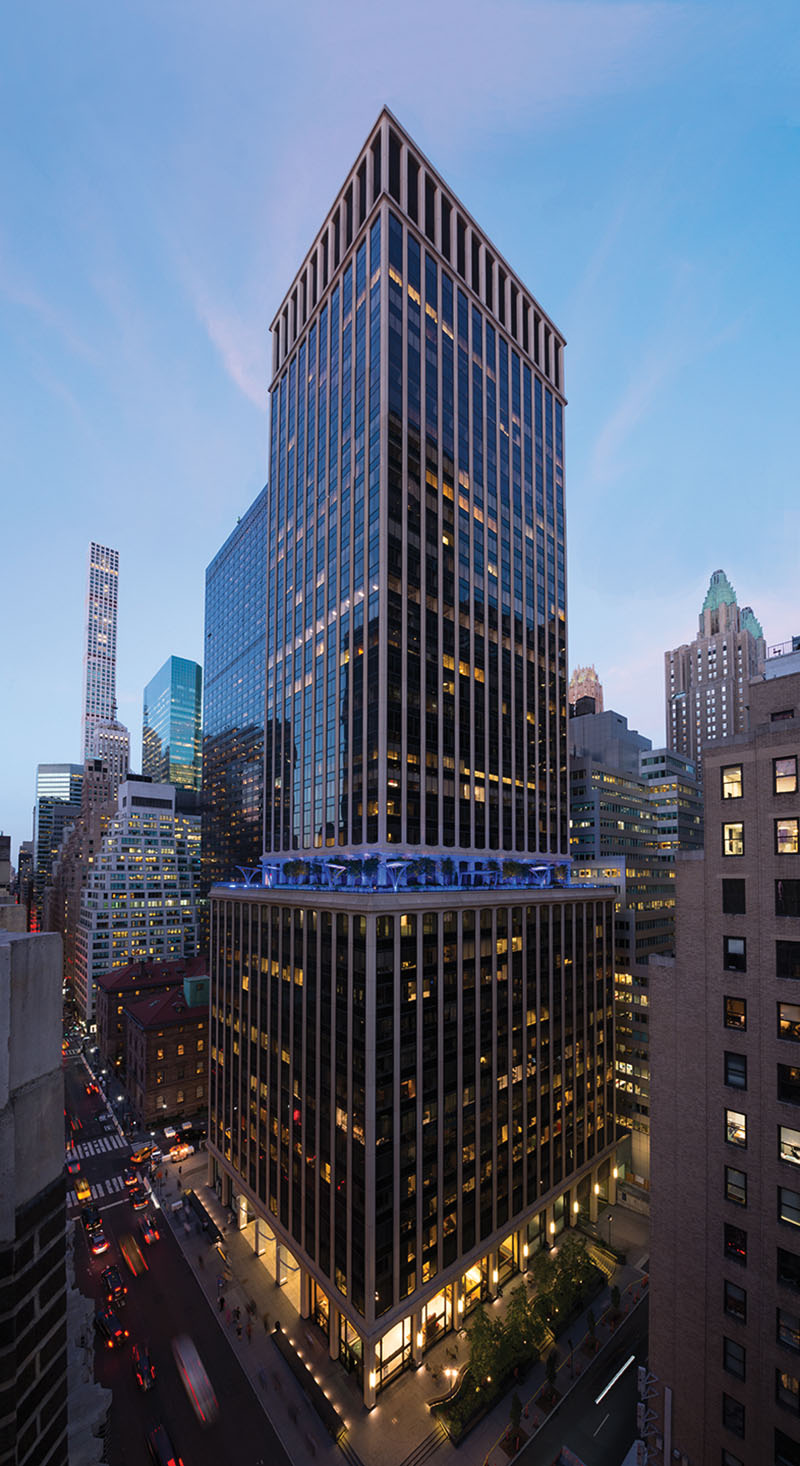 Manhattan, NY Sage Realty Corp., the leasing and management division of the William Kaufman Org. (WKO), finalized a long-term, 362,197 s/f lease with WeWork at 437 Madison Ave., a 40-story, 850,000 s/f office tower in the Plaza District.
With the new agreement, Sage Realty has leased a 12-floor block of space 15 months ahead of the lease expiration with an existing long-term tenant. Knowing that the entirety of the building's leases would roll between 2013 and 2020, Sage Realty methodically worked to reposition the property's office space. As a result, the building is now 98% occupied.
The WeWork block of space, which spans floors 2-12 and a portion of the 14th floor, becomes available on January 1st, 2021. Along with a private, dedicated entrance on the 50th St. side of the property, WeWork will also have its own outdoor terrace located on the 15th floor with access through a private staircase. The lease allows WeWork to occupy the base of the building, creating its own building within a building.
Michael Lenchner, vice president and director of leasing at Sage Realty, along with a Jones Lang LaSalle leasing team of Frank Doyle, David Kleiner, Cynthia Wasserberger, Hayley Shoener and Harlan Webster, represented building ownership in the transaction. Peter Riguardi and Howard Hersch of Jones Lang LaSalle represented WeWork.
WeWork's long-term commitment to 437 Madison Ave. is the culmination of Sage's vision to transform the property into a leading destination for modern office users. As part of its $60 million capital improvement plan, which concluded in 2015, Sage Realty commissioned architectural firm Fogarty Finger and landscape architect MPFP to renovate and re-imagine the mid-century tower into a contemporary office environment, which includes a re-designed lobby and arcade area, a new plaza, renovated elevators, upgraded building systems and an outdoor terrace with spectacular views of St. Patrick's Cathedral.
WeWork's clients will joins tenants including reinsurer Munich American Reassurance Co.; financial services firm Citizens Bank; philanthropic organization Carnegie Corp. of New York; national law firm Wiggin and Dana LLP; global strategic communications firm Kekst CNC; and finance company Medallion Funding Corp.
Upon closing the transaction, Jonathan Kaufman Iger, CEO of Sage Realty, said, "After having a strong relationship with one long-term tenant for many years, we look forward to starting a new one with WeWork to bring in tenants of the same caliber. In this environment where large blocks of space can sit on the market for months, if not years, our talented leasing team has brought in several interested parties and now successfully negotiated a deal 15 months before vacancy. We look forward to WeWork establishing an offering that will appeal to their enterprise members."
Michael Lenchner, vice president and director of leasing at Sage Realty, said, "We are excited to welcome WeWork to 437 Madison Ave. This transaction demonstrates how well the repositioning at the building has been received and the level of investment we have committed to this property. It has been a pleasure working with the WeWork team and the brokers to finalize the transaction. We will continue creating value for our tenants by offering physical amenities and exceptional services at the building."
437 Madison Ave., which occupies the entire blockfront between 49th and 50th Sts., is owned by WKO in partnership with the Travelers Cos., Inc.