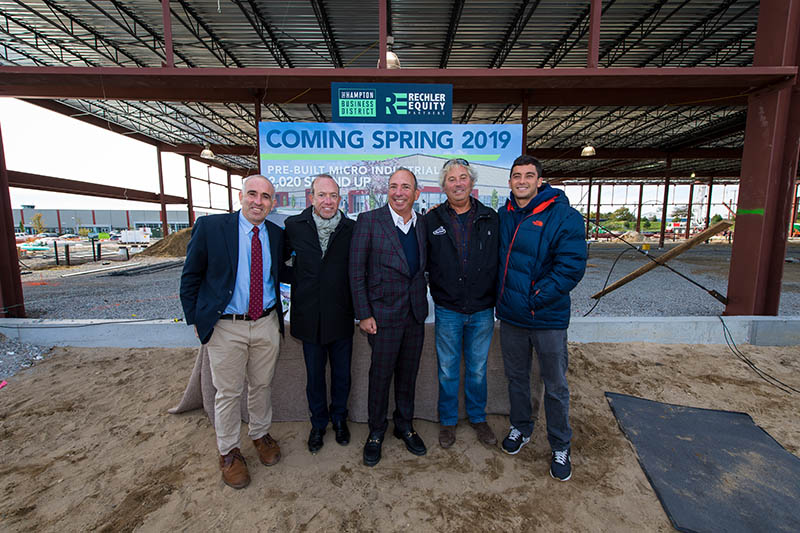 Plainview, NY Rechler Equity Partners, along with Southampton town supervisor Jay Schneiderman and other distinguished guests, celebrated the topping off" of the Hampton Business District's (HBD) latest round of construction on the parks newest building, 215 Roger's Way. The newest addition to the HBD represents a $10.8 million investment and is the third of nine planned buildings for the industrial park that has already proven to be an invaluable asset to East End businesses and its economy.
"Today marks another significant milestone for the Hampton Business District, as its expansion continues to provide East End businesses with the space they need to flourish," said Mitchell Rechler, co-managing partner of Rechler Equity Partners. "When the plans for the business park were first being developed, our goal was to create spaces that could accommodate the needs of a litany of different industries and companies of varying sizes. We are thrilled about the increasing demand for available space at the HBD and know the smaller unit offerings being made available at 215 Roger's Way will be a major boon to the East End's small-business sector."
"It is great to see the Hampton Business District continue to grow and strengthen the regional economy," said Southampton town supervisor Jay Schneiderman. "The business district is home to many new and growing businesses and keeping the promise of local jobs is critical to our area."
Unlike the two other completed buildings, the 66,000 s/f 215 Roger's Way will offer unit sizes catering to small-sized businesses that require less space than a typical industrial tenant. The new building will feature 13 units ranging in sizes from 2,000 s/f and up to 6,500 s/f.
However, a smaller-sized unit does not mean the tenant will have less access to a host of needed amenities for industrial businesses. 215 Roger's Way will offer pre-built, ready-to-move-in units that feature 15 to 20% office space, 18-ft. ceilings, LED lighting, private loading docks with 10'x12' overhead doors and sewer connectivity.
"215's micro industrial unit offerings are fulfilling a long-time need for the smaller East End businesses who needed everything larger industrial tenants need minus the physical space," said Gregg Rechler, co-managing partner of Rechler Equity Partners. "As our grandfather did back in the 1950's with the Hauppauge Industrial Park and business moving from west to east, we are very proud to be charting the newest frontier for Long Island's economy in Westhampton and providing local businesses of all sizes the infrastructure they need to succeed."
The topping off celebration also served as an opportunity for Rechler Equity Partners to announce a new anchor tenant filling 215's dedicated 30,000 s/f of office space. ADS Management—a 4th generation, family owned and operated company that provides a year-round supply of fresh produce up and down the east coast—will occupy 30,000 s/f of the building's more than 64,000 s/f to establish its new headquarters. Offering full service produce solutions, ADS Management operates six companies that provide fresh produce to major retailers, including 4,000 independent chain stores.
"ADS Management has evolved and expanded quite significantly over the past several decades, but our company has always kept its roots on Long Island's East End," said ADS Management CEO Andrew Pollak. "When we learned of the new space being developed at 215 Roger's Way, we knew it would be the ideal place to establish our new headquarters. Family is very important to our company and we are proud to be able to establish our new headquarters without disrupting the lives of our valued employees. The HBD's prime location and seemingly endless potential to fulfill any future expansions has us very excited about continuing to operate in an area we have called home since 1945."
The Hampton Business District is the East End's only Class-A industrial park and is already the home to businesses such as Tate's Bake Shop, A/C Electric, Carrier Enterprises and the Westhampton Beach Brewing Company. Currently, the industrial park features two completed buildings—220 and 200 Roger's Way—that collectively represent more than 120,000 s/f of warehouse, distribution, manufacturing and office space.