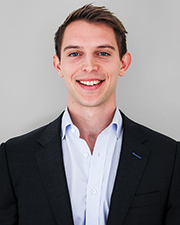 New York, NY The Real Estate Board of New York (REBNY), the city's leading real estate trade association, and its Commercial Brokerage Board of Directors named Zach Redding of B6 Real Estate Advisors as 2019's Most Promising Commercial Salesperson of the Year.
"We congratulate Zach on this great achievement and wish him continued success as his career progresses," said REBNY president James Whelan. "REBNY's Most Promising Commercial Salesperson of the Year award has recognized some of the best in our industry, and Zach is no exception. His entrepreneurial spirit and ability to exceed client expectations set him apart from the competition."
"Zach has been my right hand for several years and I have had the opportunity to watch him grow exponentially. Seeing young people like Zach rise up in the industry is an inspiration to all of us. I believe this particular award promotes all the values that REBNY stands for and Zach possesses these values," said B6 Real Estate Advisors CEO Paul Massey Jr.
The Most Promising Commercial Salesperson of the Year receives a one-year term on REBNY's Commercial Board of Directors and a one-year seat on REBNY's Board of Governors, offering the awardee professional access to network with and learn from some of the real estate industry's top business leaders. Additionally, the awardee receives the opportunity to interview industry leaders through REBNY Access, the organization's young professional networking event series, and attend REBNY's VIP Cocktail Reception at the 125th Annual Banquet.
At B6 Real Estate Advisors Redding works directly with Massey. In this role, he focuses on investment sales and capital advisory assignments in the Plaza District, Lower Fifth Ave., Grand Central, Midtown East and Garment District submarkets of Manhattan. Additionally, he is responsible for all management and oversight of Massey's legacy clients across New York City's five boroughs. Redding also served as Massey's chief of staff during his candidacy for mayor of New York City, as well as at Cushman & Wakefield and Massey Knakal. Since joining B6, Redding has valued over $1.75 billion in New York City properties and currently has over $200 million in commercial listings. In addition to his professional work, Redding is heavily involved in the community serving as chairman of several nonprofit committees, including Project Destined and New Destiny Housing. Prior to joining B6, Redding founded Productive, a platform focused on bringing property owners, residents and service providers together through a mobile and web application. Born and raised in a small town in Northeastern Pennsylvania, he graduated from West Virginia University (WVU), where he served as Student Body President, as well as a member of the WVU Board of Governors.
Liz Lash of CBRE and Jess Verdi of Colliers International were this year's runners up - each nominee significantly impacting their firm and the greater New York City community.