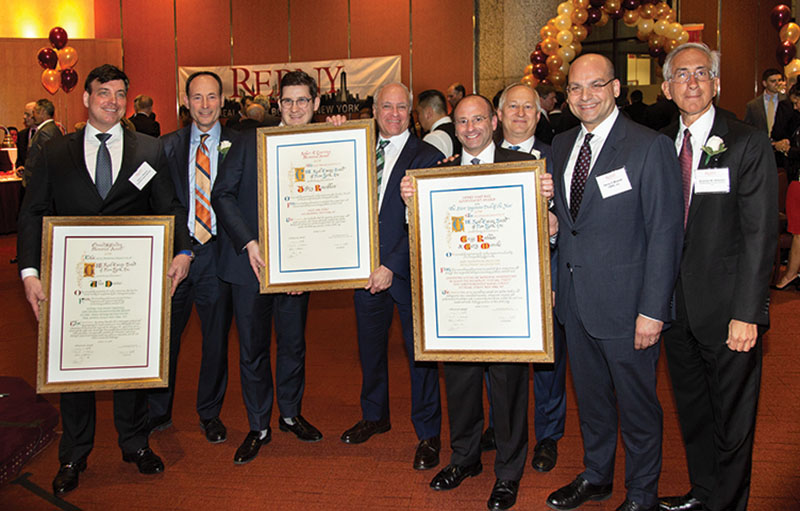 Manhattan, NY Celebrating 75 years of ingenious commercial dealmaking, the Real Estate Board of New York (REBNY) honored the recipients of its Sales Brokers Most Ingenious Deal of the Year Awards on April 9th.
Gregg Rothkin and Gerry Miovski of CBRE were named the first prize winners and received the Henry Hart Rice Achievement Award for "Cultivating a Pearl: Re-Skinned, Re-Windowed and Re-Leased, the Shucking of 375 Pearl St. that Lured Starchitect Rafael Viñoly" at 375 Pearl St.
Jeffrey Rosenblatt of The Kaufman Org. took home the second prize Robert Lawrence Memorial Award for "West Side Story" at 1601 Broadway. This is Rosenblatt's second time winning a REBNY Sales Brokers Most Ingenious Deal of the Year Award.
Alan Desino of Colliers International won the third prize Edward S. Gordon Memorial Award for "Putting the Pieces Together: How Colliers Helped Evercore Realize its Long-Term Headquarters Vision" at Park Ave. Plaza.
"Over the past 75 years, REBNY members competing for these awards have demonstrated immeasurable technical skill and creativity in negotiating complex real estate solutions for their clients," said John Banks, REBNY president. "This year was no exception. We congratulate the 2018 award recipients on their outstanding achievements."
Sponsors of the Sales Brokers Committee's 75th Annual Deal of the Year Cocktail Party were: Ariel Property Advisors, B6 Real Estate Advisors, Colliers International, Donald Zucker Co., Fried, Frank, Harris, Shriver & Jacobson, GFP Real Estate, Jack Resnick & Sons, Newmark Knight Frank, Park Tower Group, Silverstein Properties, SL Green Realty Corp., Solow Building Corp., The Wall Street Journal, and Waterman Interests.
Henry Hart Rice Achievement Award
Taking first place, Rothkin and Miovski lured Rafael Viñoly, one of the world's preeminent architects, to lease with a purchase option the 36,550 s/f floor atop 375 Pearl St., a building once considered New York City's ugliest. Viñoly had been a pioneer in Hudson Sq. nearly three decades ago and it was through this transaction that the renowned architecture firm showed it would do the same for Pearl St.
Ownership, Sabey Data Center Properties, and the CBRE team had made the decision to undergo a major capital improvement program to transform the New York Telephone Co. (now Verizon) building. The renovations included a new lobby, retail space, and a floor-to-ceiling glass curtain wall spanning 14 floors that would allow tenants to take advantage of unobstructed, 360-degree panoramic views. The 31st floor availability was the biggest question throughout ongoing negotiations of 600,000 s/f of leases with the city, which included offices for agencies including the NYC Department of Finance, Police Department, Human Resources Administration, and Department of Sanitation.
Rothkin and Miovski expertly navigated the 31st floor lease/purchase, the construction of a dedicated terrace, mezzanine, and parking with exclusivity for Rafael Viñoly Architects, while also addressing sound and vibration issues produced by the building's mechanical equipment for data center tenants. The complimentary skill sets of both brokers proved essential to the success of the deal and brought 375 Pearl St., once a blight on the New York skyline, to capacity.
Robert Lawrence Memorial Award
Through a comprehensive two-year search, second place winner Jeffrey Rosenblatt (along with James Cleary) creatively identified unique column-free space that provided the ideal rehearsal premises to accommodate large scale Broadway productions.
The journey to make Broadway director and choreographer Jeff Whiting's dream for Open Jar Studios a reality included two potential deals that resulted in partnerships with major players aligned with the need for affordable, column-free rehearsal space in the heart of Times Square. The two setbacks eventually helped solidify the reality of Open Jar Studios in the city, which suffers an extraordinary lack of quality and usable rehearsal space, despite being home to the industry's productions.
At 1601 Broadway, many similar users had been drawn to the mostly column-free space, but were deterred by limited ceiling height and floor loads. Both Rosenblatt and Cleary worked extensively with ownership, Vornado Realty Trust, to re-engineer the space, reinforce floors for code-compliance, and remove slab between floors creating 22-foot, double-height ceilings.
Open Jar Studios, a 51,436 s/f facility with two 4,000 s/f, column-free studios and 22-foot high ceilings in the base of the Crowne Plaza Hotel, is slated to open its doors in May 2019 as one of the largest rehearsal spaces in the city outfitted to meet all production needs.
Edward Gordon Memorial Award
Alan Desino of Colliers International, the third place winner, led a 13-year strategic plan that successfully pieced Evercore's office puzzle together. Desino worked with ownership, Fisher Brothers, to finalize a deal that not only maintained Evercore's 150,000 s/f headquarters at Park Ave. Plaza, but also extended the global independent investment banking advisory firm's lease and expanded the company's total footprint to 350,000 s/f. The new deal consolidated four of the company's NYC office locations into the newly expanded, central headquarters.
In completing this deal, Desino collaborated with Evercore to create a modern, client-facing space that is conducive to hosting a rapidly evolving workforce and in doing so, helped maintain the long-term presence of a major investment bank in the Plaza District.